HZ-85 Centrifugal Barrel Finisher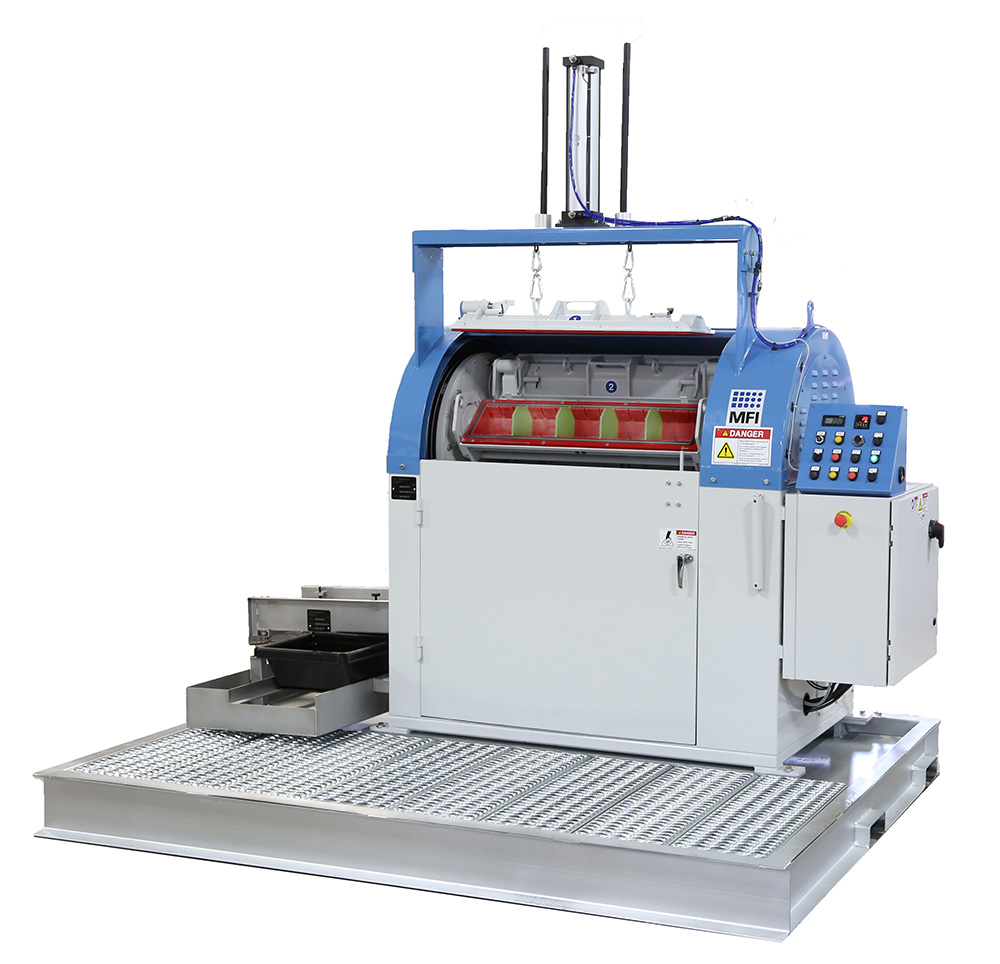 Specs
Capacity:
3 cu. ft./85 liters
HZ-85 High Energy, Centrifugal Barrel Finishing Machine
The HZ-85 is a full sized industrial finishing machine. This CBF machine can be fully customized with a touchscreen control panel, parts separator, drain pan and infrared safety curtain.
HZ High Energy series Centrifugal Barrel Finishing (CBF) systems from Mass Finishing are the fastest and most economical form of finishing machine available. They are the industry workhorse in polishing, deburring and deflashing parts. From jet engine blades in the aerospace industry to heart valves and medical implants, these tumbling machines are the versatile and money-saving solution for polishing and deburring.
No Heavy Lifting Required
With the included barrel lid-lifting system, you can easily lift off your barrel lids. This eliminates the need for excessive force when loading and unloading the machine.
Isotropic or Iso Finishing
In a matter of minutes this deburr tool can clean up metal, acrylic or rubber parts are finished in what could take hours or even days by hand. The finish achieved by these machines is isotropic, meaning parts are polished uniformly and evenly, something that cannot be achieved by hand. Variable speed control allow these tumbling machines to achieve whatever finish the operator desires, from a simple polish at low speed, to full scale deburring and edge radiusing.
HZ-85 Machine Specs

Main Motor
· 7 HP Leeson Brand
· Totally Enclosed
· 230-460v (Please Specify on Order)
· Three Phase, 60 hertz
Barrel Rotation Motor
· 1.15HP
· 230-460 volt
· 3 phase, 60 hertz.
Machine Voltage
· 230-460 volt-(Please Specify on Order)
Capacity/Consumables
· 2 cubic feet Total Capacity (85 Liters)
· 15.5 lbs. of Plastic Media/Barrel (62 lbs. Total)
· 19 lbs. of Ceramic Media per Barrel (76 lbs. Total)
· 1 Gallon of Water Per Barrel (4 Gallons Total)
Approximate Shipping Weight
· 2700 lbs. (Machine only)
Overall Dimensions
· 75″L x 40″W x 92″H (machine only)
· 89"L x 40"W x 90" H (With Separator)
· 100" x 79.5" footprint with drain pan option
Machine Construction
· Heavy duty steel
· All welded construction
· Reinforced, gusseted, and welded to maximum strength
Paint
· Shot Blasted
· Heavy duty powder coat
· Scratch resistant
Barrel Construction
· 33.5"L x 6"W
· Four octagonal barrels with removable lids
· Cam locks for secure operation
Barrel Liners
· Hot poured polyurethane
· ¼" thick
· Field replaceable
· 14 Divider slots, 15 individual chambers possible
Barrel Cover Lift
· Air driven system for removing covers
· Controlled via toggle switch on control panel
Control Panel
· NEMA 12 enclosed panel
· UL Certification Available
· Allen Bradley buttons and switches
· 0-100 Hour cycle timer mounted on panel
· Power jog of turret
Variable Speed Drive
· Allen Bradley PowerFlex 525
Brake
· Automatically stops the turret when a stop is activated or cycle is completed
· Activated if door is opened
Safety Interlock
· Prevents door from being opened during operation
· Machine must be powered on in an idle mode to disengage lock
· Can only be opened once cycle is finished
Optional Equipment

Description
ü Vibratory Media Separator

· Dump fully loaded barrels inside machine

· Media and parts are separated through screens and vibration

· Media and parts travel out of machine to bins

Media Classification Drawer

· Add on to vibratory media separator

· Screens out undersized media to prevent lodging issues

· Removes debris from system

Spray Header for Separator
· Water spray bar that runs automatically when separator is running to clean media and parts
Drain Pan

· 100"L X 79-1/2"W X 8-1/2"H

· Collects any water drainage during loading/unloading

· Grip strut floor surface to prevent operator slips and falls

ü Processing Table and Sludge Tank

· Constructed of 1/2" P.V.C. and Anodized aluminum frame

· Includes three compartment sludge tank mounted on casters for easier mobility

· Sludge tank can be sold separately.

Barrel Dividers

· Made from NYLOIL® A cast nylon with built-in oil lubrication

· Provides superior machinability, performance, and durability compared to other plastic.

ü PLC Controller

· Horner Electric EXL6

· Allen Bradley

· Store recipes and processes

· Maintenance reminders and machine diagnostics

· Automated fwd/rev and speed adjustment

Rinse Screen

· Fits over barrel and dividers

· Attaches with quick latches

· Spray out dirty water and debris without dumping barrels
Infrared Safety Light Curtains

· Disables machine if curtain is broken while door is open during loading/unloading

· Added layer of safety

Light Tower Indicator

· Visual indicator of machines status

· Can be customized to match existing equipment

Media Return/Loading System

· Conveyor and bucket elevator system automatically returns media to hopper above machine

· Hose allows for easy refilling of barrels

· Reduces lifting requirements on operators

­Centrifuge Module

CF55 SD Series Microseparator™

· Clean and process effluent from tumbling process

· Processed wastewater is safe to send to drain or be used in a recycling system.

· Solids are collected through centrifugal action of rotor via a reusable liner

Custom Logo/Paint

· Paint matched to customer color scheme requirements

· Sticker Logo provided by MFI or Client

Media and Compound

· Required for running parts

· MFI Stocks all consumables used in testing process

· Media ships in 50- or 55-pound quantities

· Pricing Varies Depending on Type

Media Storage Rack

· Keep media out of the way when not in use

· Industrial powder coated steel construction

· Made to fit 12 MFI gray media bins
How It Works
Centrifugal barrel finishing machines operate on the "Ferris Wheel" principle with a one-to-one ratio of barrel rotation to turret rotation. Each of the four barrels is loaded to roughly 50-80% full of media, parts, water, and compound. During operation, rotation of the turret creates a sliding force inside the barrel. This motion causes parts and media to contact each other in random or isotropic directions. The resulting finish is consistent across the entire surface of the part. MFI provides complete sample processing and stocks all required media and supplies.
Available Options and Accessories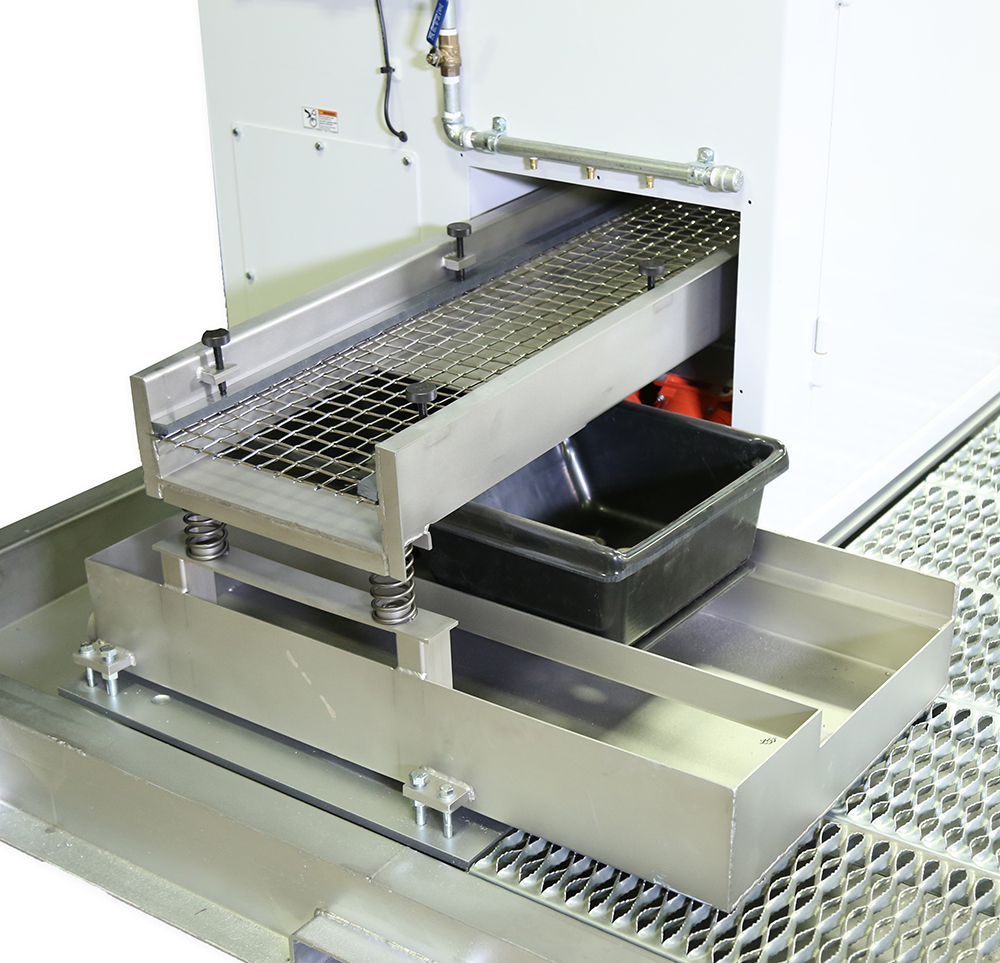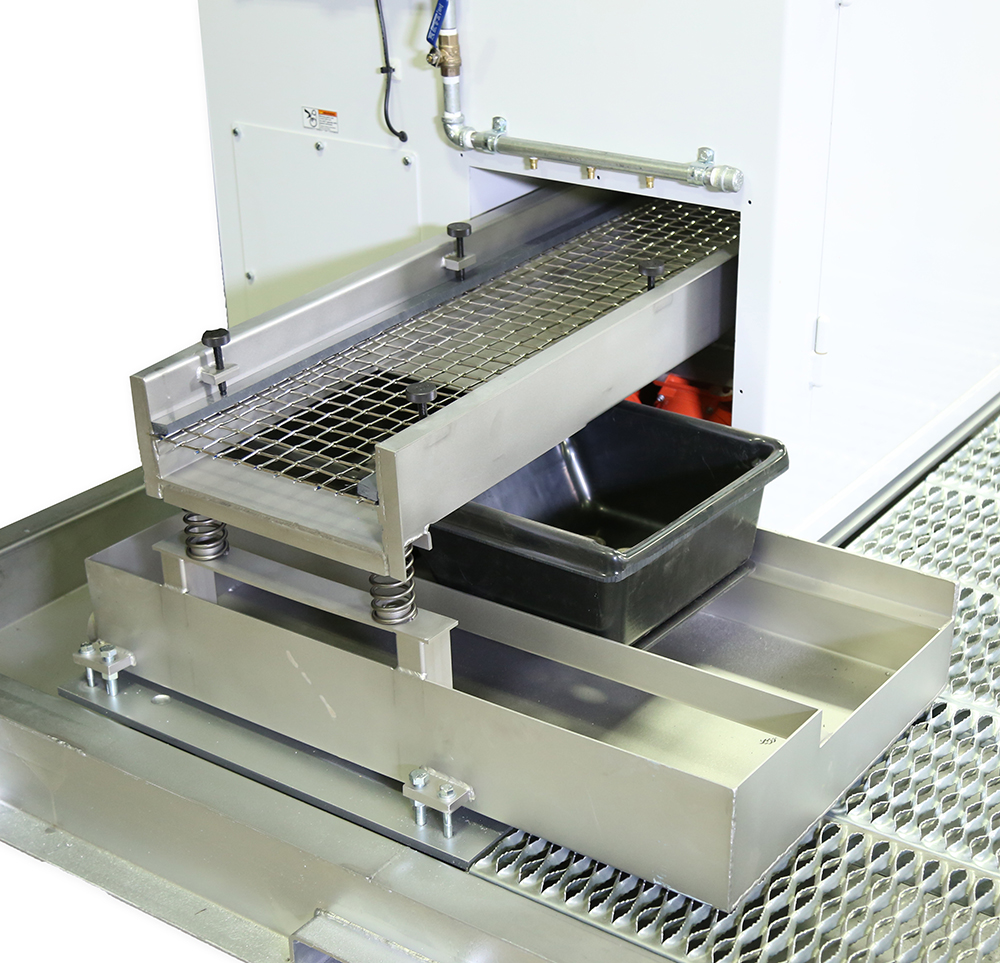 Make the media and part separation process simple by adding a vibratory media separator. Rotate the barrels to dump media and parts onto the vibratory screen and watch as the media and your parts separate.
Processing Table and Sludge Tank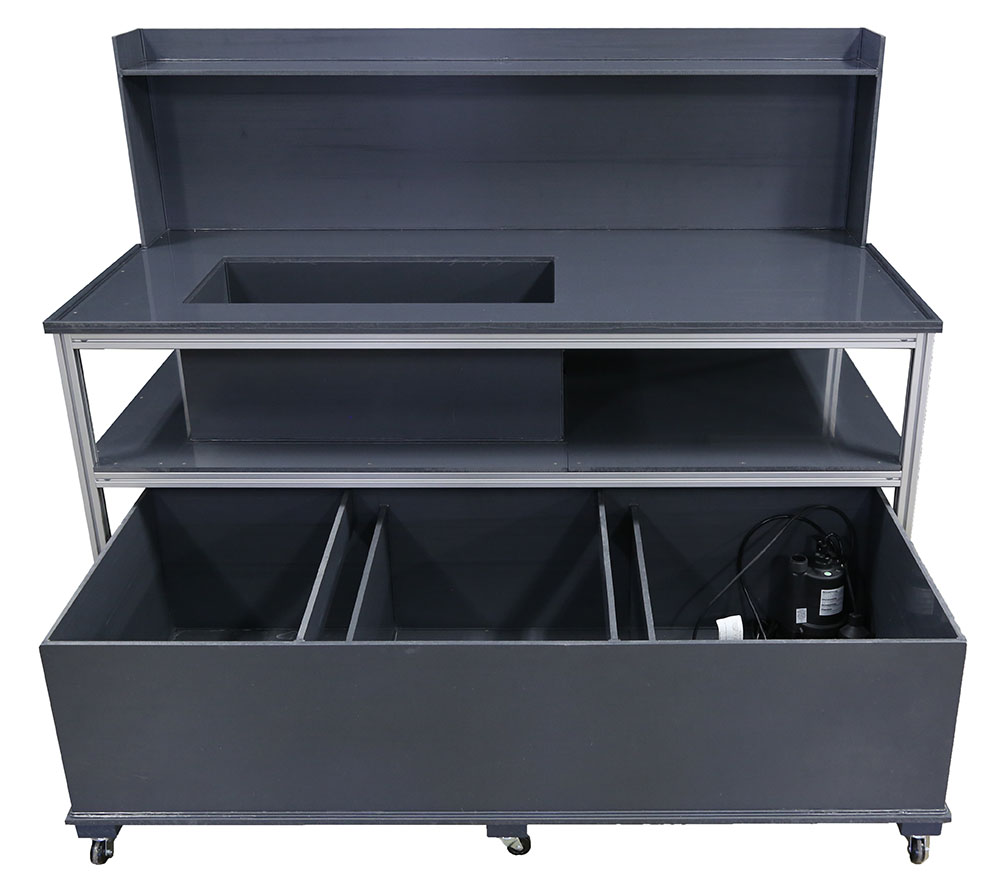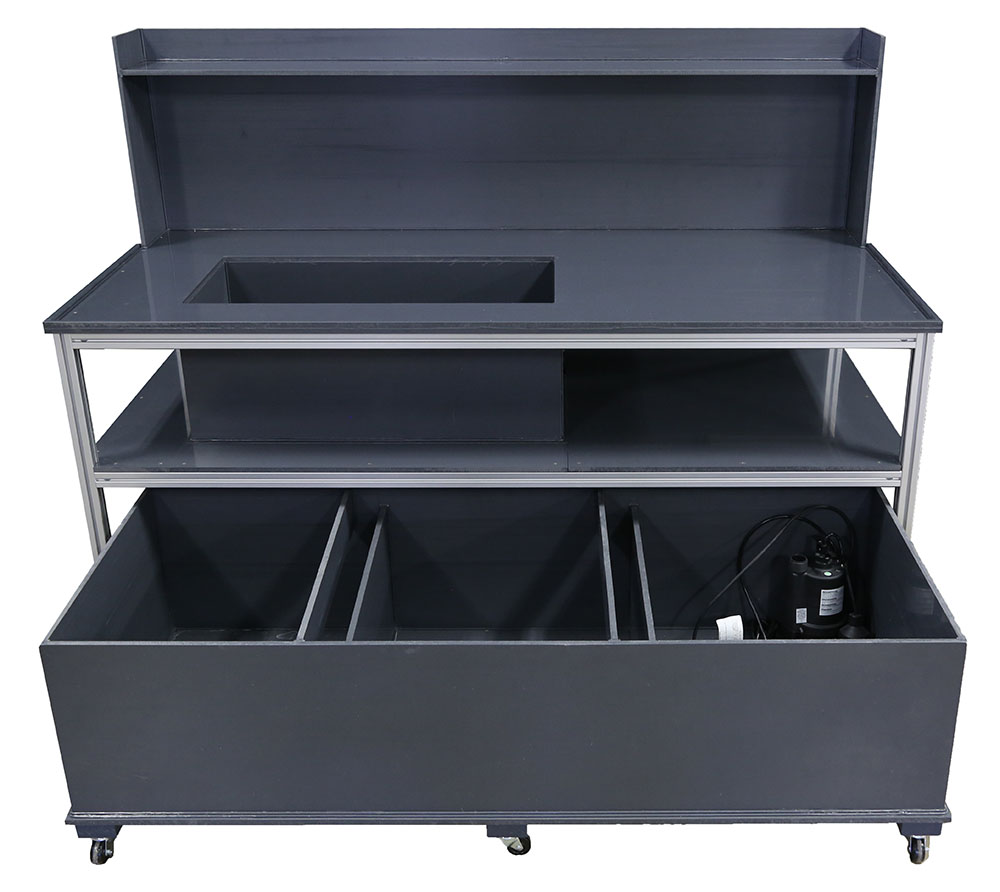 Reduce the mess from the process with MFI's processing table and sludge tank. Sediment from your tumbling process is collected and easily cleaned out.
PLC Touchscreen Interface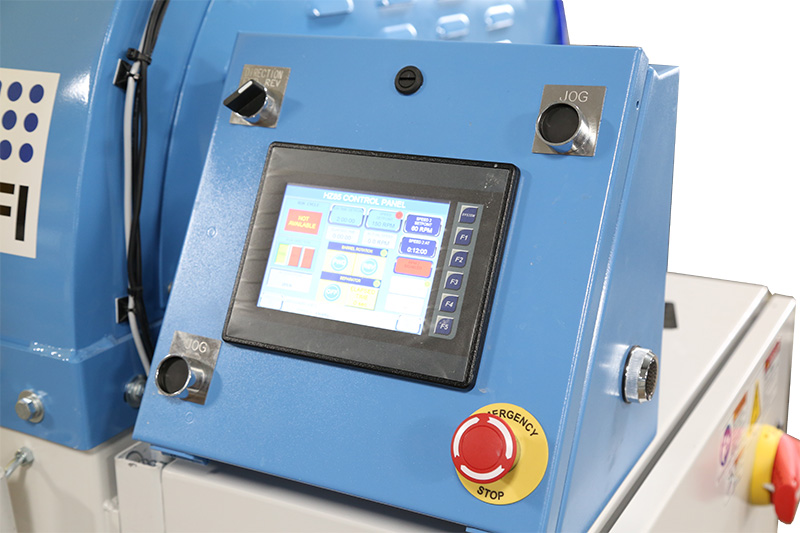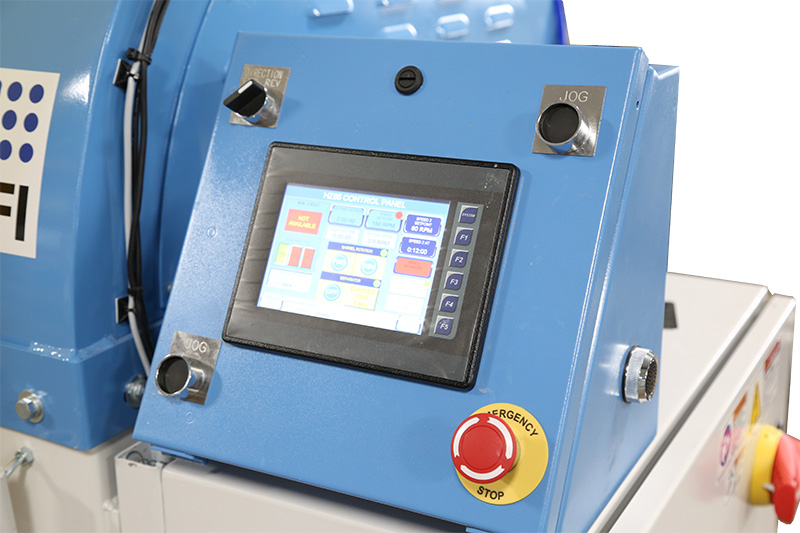 Store processes as recipes in this PLC touchscreen interface. This unit replaces the analog cycle start buttons and allows for better monitoring of machine use and time.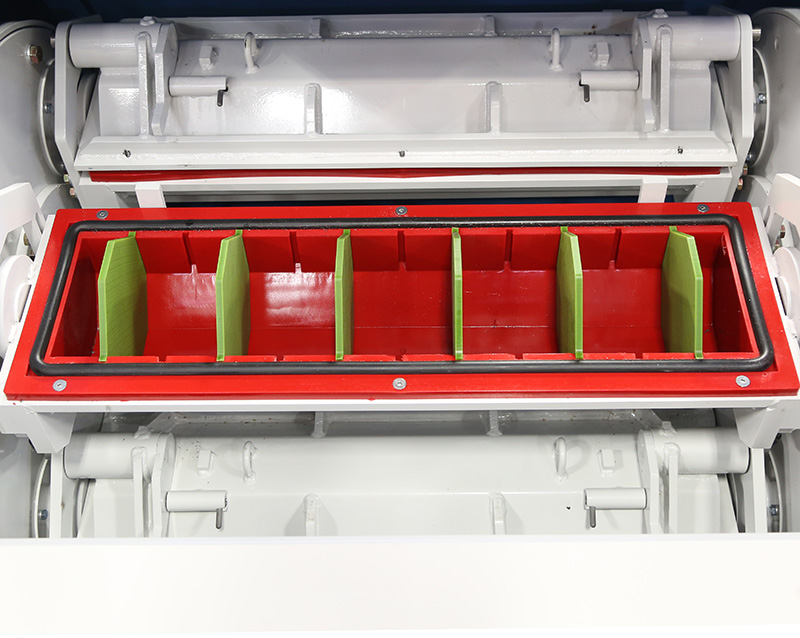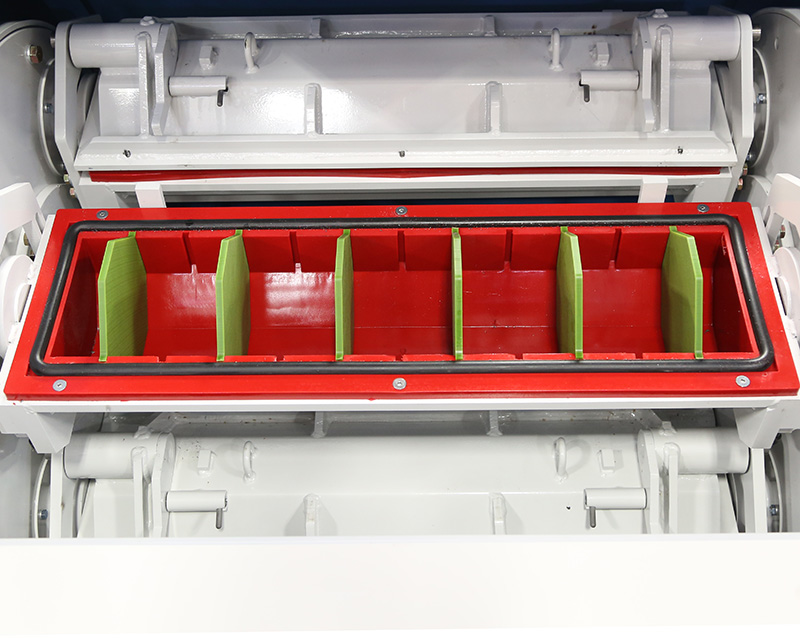 A unique feature with barrel tumbling is the ability to create small separate chambers within each barrel. Dividers help reduce part-on-part impingement.