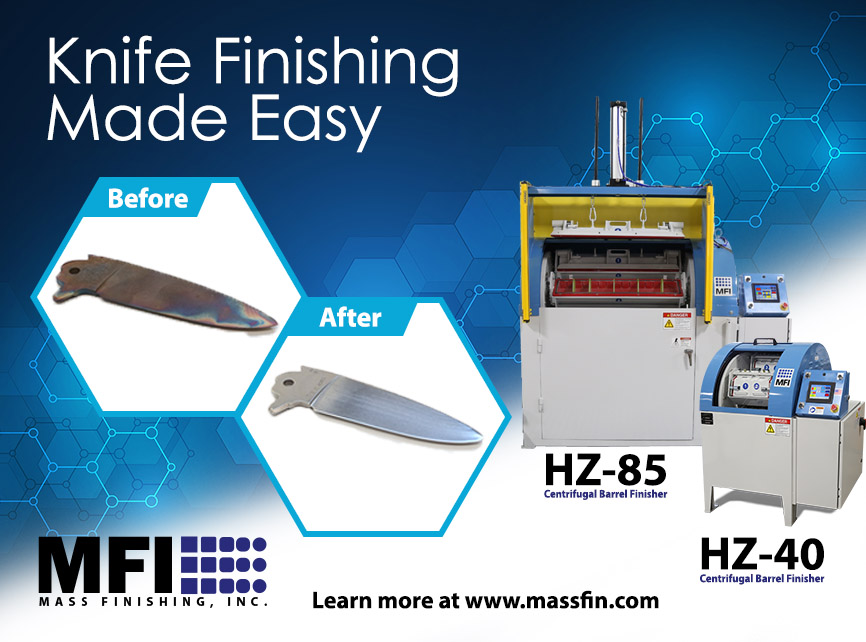 ​
If you're looking for a solution for knife polishing and deburring, high-energy barrel tumblers provide a fast, environmentally friendly solution. In a matter of minutes, you can take blades from your machining or heat-treating process and put them into a centrifugal barrel tumbler and have blades and other knife components ready for assembly.
MFI processes are free of hazardous and expensive accelerated chemicals. We rely simply on the intense physical force of the machine.
How to Polish Knives
With the HZ-40 you can process 16 short (3-5 inch) blades at a time while keeping them separated in individual compartments to eliminate part-on-part damage. The HZ-60 provides 48 blade capacity while the HZ-40 gives you 60. Long blades, up to 33 inches long can fit in the tumbling chamber of the HZ-85.
Utilizing an abrasive preformed type of media, MFI has produced acceptable stonewashed finishes in as little as 5 minutes of run time. With an added step with a non-abrasive type of media, we can polish the blades in 10-20 minutes.
MFI works with custom and production knife makers around the world on solutions for creating unique matte and stonewashed finishes along with mirror polishes on blades.
Testing Process
When your parts arrive, we'll take photos so we can compare later what the parts look like after tumbling. After the before photos, the samples will go into the queue for test processing. There is typically two to three days of parts waiting to be tumbled at any given time.
Once in the lab, our test engineer will take a look at the parts and the information you provided about the desired finish. This includes determining the right media composition and size, and preparing the equipment for the test. After the parts reach the desired finish, MFI will log all of the parameters into a confidential test report.
We then will take photos of the parts after processing and put together a before and after collage to show you the results. We will then ship the parts back for your inspection. We will include a customer copy of the test report which will contain the necessary information you will need to make a decision on equipment. MFI is always willing to work with customers to guarantee you make the best choice for your company's needs.
Contact Us
sales@massfin.com
Toll Free: 1 (888) 260-6277
320-543-3222
[gravityform id="2″ title="true" description="true"]