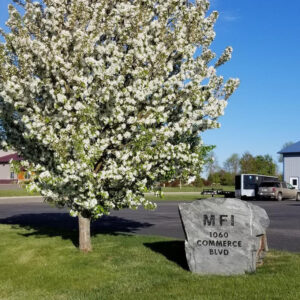 Spring has finally sprung here in Minnesota!  It sure took a while, but we have had some beautiful days and things are turning green again!
Along with the beautiful weather, we have been having some very busy days for MFI.  What started off as a bit of a slow first quarter, turned in to a record-breaking April for MFI.  We posted our largest-ever incoming orders month which means a very busy summer ahead!
Our HZ-175 is in production and we will have our prototype machine up and running this summer.
Our media return system is another new product that will be in testing very soon.
We've added a new distributor in the UK, and we are planning our Distributor Summit at MFI in July.
Our sister company, Lou-Rich, is celebrating their 50th Anniversary in August.
We've created a new position for an Inventory Control Specialist and have hired on Jim Mikelson to fill this role. Jim has been very busy organizing our shop to prepare for the influx of stock parts we will be receiving to handle all of our orders this summer.
We exhibited at the Rapid-3D Printing show in Detroit and we are preparing for the IMTS Show this September.
In addition to all these new developments and events, we're working on meeting the needs of our customers as best as we possibly can! Thank you to our employee-owners for their hard work and effort this will take, and to our customers for their patience while we work thru our production schedule and the supply chain challenges.
Yes, spring has sprung!  And MFI will be as busy as the bees!
Marci Theisen
MFI General Manager