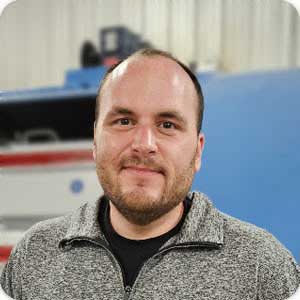 We are excited to introduce David Morschen, our newest team member at Mass Finishing. David joined us on May 1st as an Inside Sales Associate. David holds a bachelor's degree in business administration from Bemidji State University. In his new role he'll support sales activities and provide products and finishing solutions to our customers.
"I am most excited to work with our current customers and make sure that they have their needs filled with our products/services. I enjoy talking to people and working through different situations and solutions. I am interested in learning more about the finishing processes and media we sell to better educate myself to better help the customers," David shared when asked about his excitement regarding his new position.
As a new hire, David's initial impressions of working at Mass Finishing have been very positive. He appreciates the smaller crew of employees, as it creates a sense of familiarity and camaraderie. "It has been really nice and enjoyable to talk with everyone. I've found that everyone is open to questions I have about the company/products and very patient with me while I learn," he expressed.
When asked about himself, David shared that he has 2 dogs: a black lab 'Chief' (4) and a Boxer 'Vinny' (2), whom are his pride and joy. He also enjoys getting outside and going hunting, fishing, riding ATVs, or walking his dogs. "I have a cabin up north in Hackensack and try to get up there all summer/fall and get out in the woods or out on the lake," David said.
David's enthusiasm, combined with his genuine interest in serving customers, makes him a valuable addition to our team at Mass Finishing. We look forward to seeing him thrive in his role and contribute to our continued success. Welcome aboard, David!