MFI Looks to Increase Brand Awareness with Performance Racing Partner
Mass Finishing Inc. (MFI) is well known in the surface finishing world for their high-speed equipment. Now MFI is working with Roush Yates Engines, a high-speed partner.
In August of 2020, Roush Yates Manufacturing Solutions contacted MFI looking for a solution to provide better surface finishing on machined aluminum parts. After successful testing in the MFI lab, Roush Yates Engines acquired MFI's HZ-160, High Energy series Centrifugal Barrel Finishing (CBF) system.
"We are always looking for ways to improve our processes and products," commented Dan Keenan, chief technical officer at Roush Yates Manufacturing Solutions. "The HZ Barrel Finisher will reduce our overall cycle time and produce a superior isotropic finish part. The MFI team has been outstanding to collaborate with and has made it a true win – win for us and our customers."
Mass Finishing found out the sale would be unique, as Roush Yates Engines offered an exclusive partnership opportunity to MFI that gave them access to the Roush Yates brand name and other VIP experiences.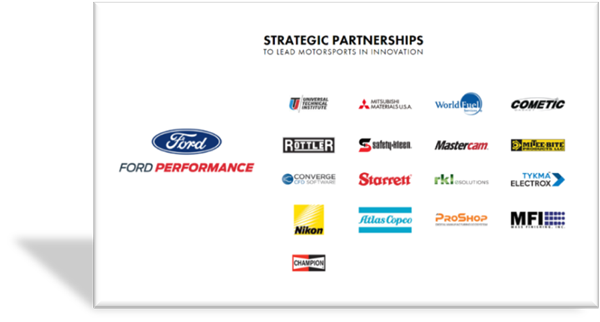 At a time when the future of tradeshows is uncertain, MFI sees this as the perfect opportunity. "We have to find ways to be creative now that travel is so limited," said MFI Sales and Marketing Manager Cole Mathisen, "this will help us create better marketing content and increase our own brand awareness unlike any other opportunity."
Some of the other agreement highlights include track and race access at NASCAR events, MFI equipment showcased on the "Virtual Tour" section of the Roush Yates Engines' website, and tour access for customers and distributors to the Roush Yates Engines shop and Roush Yates Manufacturing Solutions (RYMS) facility.
"Access to the brand and the 'behind-the-scenes' opportunities is great, but for us, having access to a premiere engine shop to help provide performance data related to our surface finishing capability is huge," Mathisen said.
MFI is proud to partner with such a prestigious racing name and looking forward to the rewards the partnership will bring for both companies on the sales floor and racetrack.
About Roush Yates Engines
Roush Yates Engines is a leading-edge engine development company based in Mooresville, NC consisting of two state-of-the-art facilities – Roush Yates Engines and Roush Yates Manufacturing Solutions, a world class ISO 9001 / AS9100 certified CNC manufacturing facility. The company's core business includes designing, machining, building, and testing purpose-built race engines.
Jack Roush and Robert Yates partnered with Ford Motor Company in 2003 to join forces as the exclusive Ford Engine Builder for the NASCAR Series.
These two legendary engine builders led by President & CEO Doug Yates turned this partnership into an immediate success with winning the 2004 NASCAR Sprint Cup Championship. Since 2004, Roush Yates Engines has achieved over 400 wins in NASCAR, International Motor Sports Association (IMSA) and Federal Federation Internationale De LÁutomobile Series (FIA).
Roush Yates Engines supplies the Ford FR9 EFI V8 NASCAR Cup engine to the prestige NASCAR teams of Roush-Fenway Racing, Team Penske, Wood Brothers Racing, Stewart-Haas Racing, Front Row Motorsports and Live Fast Motorsports, along with other major teams in the NASCAR Xfinity Series.
Roush Yates Engines also provides the 5.2L V8 engine for the Ford Mustang GT4, which competes in the IMSA Michelin Pilot Challenge series.
With an unparalleled culture of winning and steeped in rich racing history, Roush Yates Engines continues to follow the company's vision to lead performance engine innovation and staying true to the company's mission, provide race winning engines through demonstrated power and performance.