One of MFI's largest customer bases is the Medical Industry. In fact, 1 in 5 pieces of equipment sold at MFI this year have gone towards supporting customers within this industry. Customers in the Medical Industry turn to MFI to help them achieve a consistent, isotopic finish on their parts. From surgical tools and equipment to replacement knee and hip parts, MFI has decades of experience removing machine lines, breaking sharp edges, and adding a mirror finish to these critical and complex parts.
Some of the most common Medical Industry parts that are finished using our HZ-High Energy Centrifugal Finishing machines include:
Medical implants
Bone plates
Bone screws
Surgical tools
Prosthetics
Stents and heart valves
Needles and blades
Medical instrumentation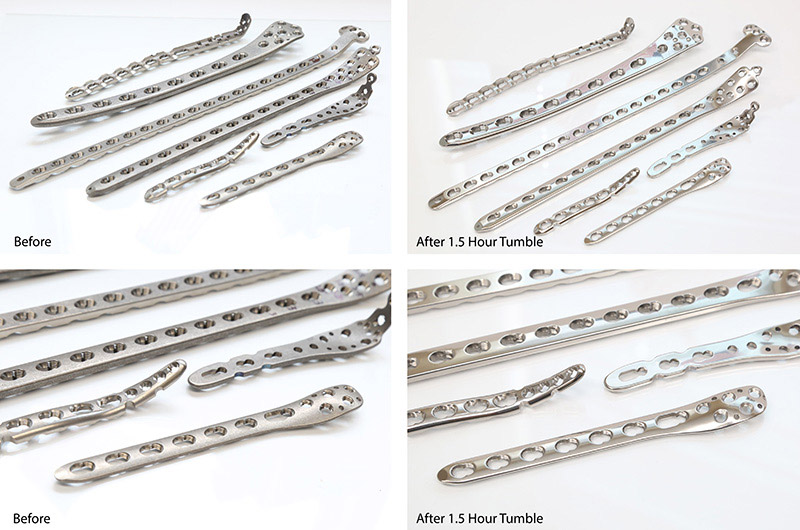 The Importance of an Isotropic Finish
"One of the most common finishing processes that people within this industry are looking for is a high-polish or mirror finish," stated Ty Lehrke, Technical Sales/Lab Engineer at MFI.
For the Medical Industry, the fine isotropic finish produced by High-Energy Centrifugal Barrel Finishing Machines (CBF) is a requirement. With medical implants, an isotropic surface is necessary to help avoid the buildup of plaque on medical parts such as implants, plates, and screws. The reduction of plaque leads to fewer complications with surgeries and procedures and helps prevent other possible rejection factors.
In addition to an isotropic finish, MFI equipment makes processing medical and surgical parts much quicker. "High-energy machinery brings a lot of value to the medical and surgical industry – in most cases, we're able to reduce process times dramatically with our HZ-Series Centrifugal Finishing Machines," stated Ty.
In the table below you will find the processing times you can typically expect while using an HZ-Series finishing machine for parts in the Medical Industry. Please note that processing times vary depending on the starting surface roughness.
Medical Industry Process Times
| | |
| --- | --- |
| Light Edge Break/Deburr | 5-20 minutes |
| Rough Grind/Deburr | 20-60 minutes |
| Full Polish from Raw Part | 30-90 minutes |