RF-200A Automated Centrifugal Disc Finisher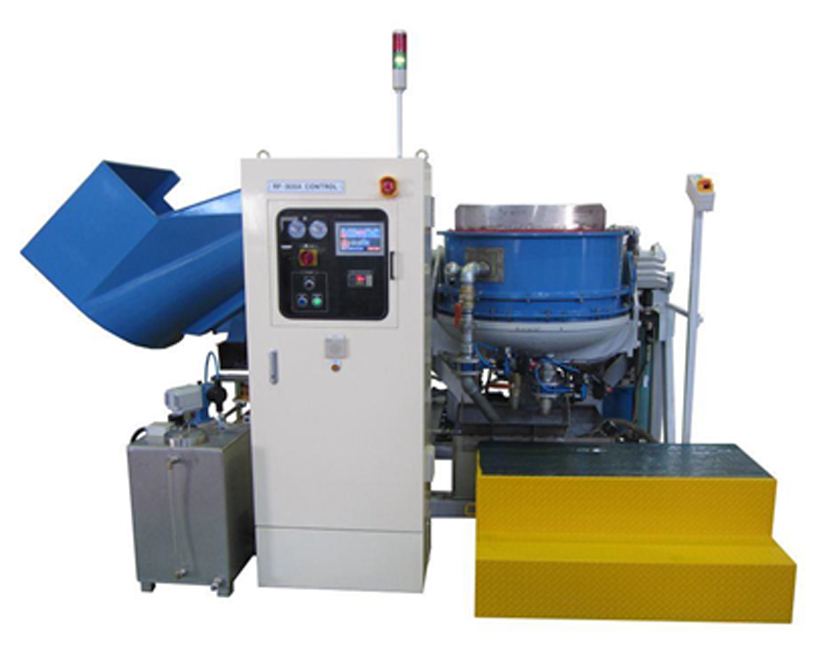 Specs
Overall LxWxH:
93"x77"x56"
RF-200A Fully-Automated, Centrifugal Barrel Finishing Machine
The RF Series line of centrifugal disc finishing machines range in capacity from the .7 cubic feet of the RF-20 to 12.1 cubic feet in the RF-400A. The RF-100 is also available in the fully automated RF-100A version which is fully automated. The RF-20, RF-50 and RF-100 require manual loading and unloading and feature a dumping system.
Centrifugal disc finishing systems from MFI offer lower operating costs and a better finishing performance than vibratory finishers. Centrifugal disc machines can perform a wide range of deburring and polishing functions at 10 to 30 times the speed of vibratory finishers.
Centrifugal disc machines operate using a drum with a disc at the bottom that rotates to create a rolling action with parts and media. The spinning of the disc forces parts and media upward while also providing rotation. Continuous rolling and flowing of the parts against the media provides highly efficient deburring and finishing. The inside of the finishing drum and disc are covered with a polyurethane liner that can stand up to repeated and constant use.
Standard Features
Variable Frequency Drive
Digital Process Timer
Polyurethane Lined
Upflow Drain System (water is pushed up thru disc gap & drains toward top of machine)
Finish Cycle Buzzer
Ideal Unload Height
Convenient Operator Control Console
Hydraulic Disc Unload
Variable Process Timer
Amp Meter
RPM Meter
How It Works
Centrifugal barrel finishing machines operate on the "Ferris Wheel" principle with a one-to-one ratio of barrel rotation to turret rotation. Each of the four barrels is loaded to roughly 50-80% full of media, parts, water, and compound. During operation, rotation of the turret creates a sliding force inside the barrel. This motion causes parts and media to contact each other in random or isotropic directions. The resulting finish is consistent across the entire surface of the part. MFI provides complete sample processing and stocks all required media and supplies. Watch the video to see it in action.