Centrifuge Wastewater System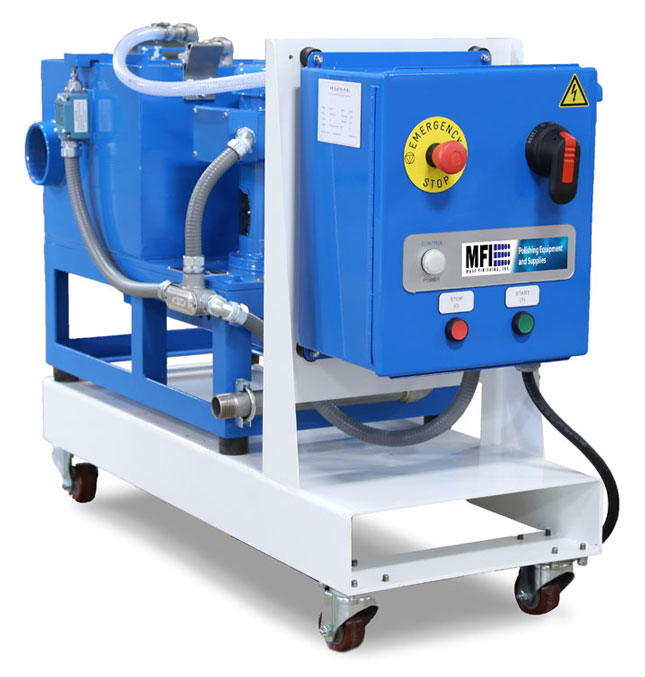 CF-55 Centrifuge Wastewater System
Looking for a reliable and efficient solution to clean process water, machine tool coolants, or oil in your industrial operations? Look no further than the CF-55 Centrifuge Wastewater System. This liquid-solid separator module offers unparalleled filtration capabilities without the need for media, making it a cost-effective and hassle-free solution for a wide range of industrial applications.
About the CF-55
The CF-55 Centrifuge Wastewater System offered by MFI is a manually cleaned, liquid- solid separator module. The robust construction is ideally suited to the characteristics of abrasive solids such as glass, quartz, ceramics, carbide, and metals. It is capable of processing 12 gallons of wastewater per minute with a rotor volume of 1.75 gallons.
To maintain uninterrupted workflow, the CF-55 Centrifuge Wastewater System comes with two neoprene liners. After cleaning the liner, you can simply insert the second neoprene liner into the system, allowing you to continue the filtration process without delay. This user-friendly approach guarantees a quick and hassle-free cleaning process, ensuring that your operations run smoothly and efficiently.
The CF-55 incorporates a mild steel support frame, manually cleaned liner, and an electrical control package incorporating starters for the centrifuge and optional feed pump.
CF-55 Centrifuge Basic Operation
The CF-55 Centrifuge Wastewater System operates seamlessly to provide efficient and effective wastewater filtration. The process liquid is pumped into the top of the centrifuge using a sump pump. Once inside, the powerful motor spins at a high speed, centrifugally separating the solids from the process liquid. As this separation occurs, the solids accumulate and are pushed towards the outer edge of the neoprene liner. Meanwhile, the leftover liquid, now free from solids, escapes through the top of the system. This ensures that only the purified liquid continues down the line for further use or disposal.
To clean the centrifuge, just stop the unit, open the hinged cover, and remove the neoprene liner from the centrifuge. This liner contains the accumulated solids, making their removal simple and straightforward. Once the liner is removed, you can easily clean out the accumulated solids, ensuring the centrifuge is ready for the next cycle.
Power
Construction

304 SS Enclosure
Aluminum for Rotor Assembly Optional
Mild Steel Support Frame

Wheels

Heavy duty castors
Two braking castors

Process Capacity

Flow Rate: 12 gpm (45 lpm)
Rotor Volume: 1.75 gallons (6.6 liters)

Motor

2 hp (1.5 kw) Drive Motor

Overall Footprint

39.25" long (997mm) x 18.5 wide (469mm) x 26″ H (660mm)

Includes
Electrical

NEMA 12 enclosure
110v Cover Limit switch or optional 24v electro-mechanical interlock
CE Mark Available
All 3 Phase Power Configurations Available