Running samples in our lab is the best first step in determining the right equipment and process for your part. Seeing is believing, so we offer sample part testing with no cost and no obligation.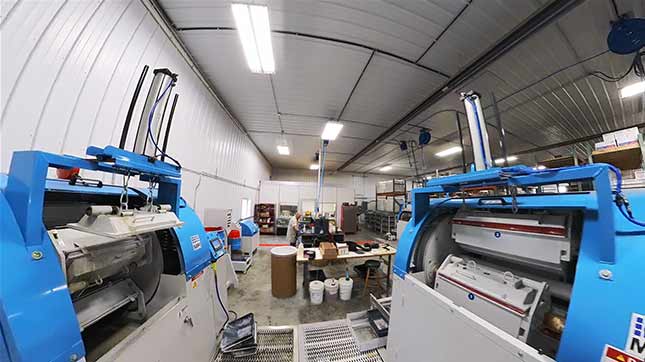 Step 1: Fill Out Our Test Sample Request Form
The first step is filling out our Test Sample Request Form. In the Test Sample Form, you'll fill out your contact information and any relevant part information.
This includes part material, manufacturing method, desired finish, and expected production volume per month. You'll also include any other notes about the project, your budget, and your timeline requirements.
Step 2: Send Your Sample Parts to Our Lab
The second step to testing your samples is sending them to our Processing Lab for review. You can send samples to the following address.
Attn: Sample Testing Lab
Mass Finishing, Inc.
1060 Commerce Blvd
Howard Lake, MN 55349

Upon receiving your parts, we will take "before" photos for your confidential lab report. Your parts will then move into the queue for testing. Our lab processes most samples within a week, depending on the number of samples we're working on.
When your parts arrive in the lab, we will review them along with the information you provided. Our team will then determine the right equipment, media size, and media composition based on your specifications and desired finish. As part of the processing process, we will compile a confidential test report and take "after" photos to show the results of the processing. Sample parts will then be returned for inspection and approval.
Need Help Determining Your ROI?
We understand that your budget plays a significant role when making a purchase decision. To choose the right finishing equipment, we want your team to have all the information it needs. We can not only provide free sample parts processing but also calculate your expected ROI. If you are getting samples tested in our lab, please let a member of our team know you're interested in receiving a cost analysis along with your confidential sample test report.