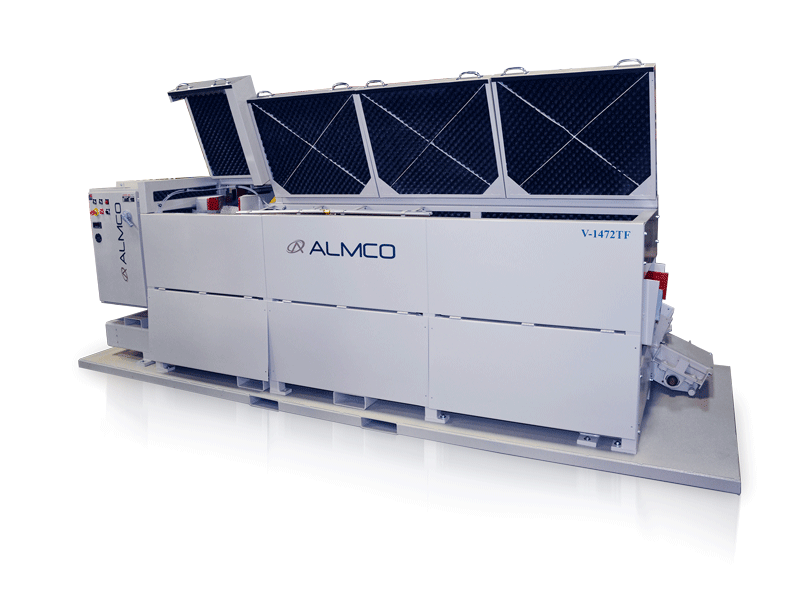 Continuous Thru-Feed Vibratory Finishing Tubs
The Continuous Thru-feed Vibratory Finishing Tubs are manufactured by our sister company, ALMCO, and are designed for high production parts. These machines can be equipped with optional automatic parts load and unload mechanisms for increased efficiency. Parts can be fed into the machine at short intervals directly from preceding operations. These systems are ideally suited for incorporating washer, dryer, or rust-inhibiting operations and can also be equipped to process parts using steel media.
About the Thru-Feed Vibratory Tubs
These machines are integrated with material handling systems, including an oscillating parts-media separator, which incorporates a secondary fines removal deck and a media return conveyor for complete automatic processing.
The screener has urethane-lined sides and a removable/replaceable plastisol-coated woven-wire separation screen.
Standard Features:
Wet or dry processing capabilities
Variable amplitude for process adjustment
Heavy duty polyurethane lining
Ability to run steel media
Automated loading and unloading
High volume production
Optional Items:
Automatic lubrication system
Flowmeter
Automated loading and unloading
Sound enclosure
Adjustable tub pitch angle
UL 508A electrical controls
Thru-Feed Tub Basic Operation
Continuous Thru-Feed Vibratory Finishing Tubs operate by feeding parts directly into the machine at short intervals from preceding operations. Material handling systems remove any foreign particles in the media, and parts separate from the media on the oscillating screener unit. The media falls to the secondary deck, which again screens media to remove any foreign particles or contaminants. The screened media then travels up the return media conveyor to re-enter the vibratory processing tub.
Available Thru-Feed Models
Model
Tub Cap Cu Ft.
Tub Length
Tub Width
Motor HP
(Variable Speed)
Overall Dimensions (In.)
V-1472TF
6.5
72″
14"
7.5
176 x 58 x 78
V-14156TF
17.5
156″
14"
10
300 x 73 x 117
V-1696TF
13
96″
16"
15
270 x 60 x 118
V-19114TF
22
114″
19"
15
272 x 70 x 120
V-16155TF
20
155″
16"
20
314 x 73 x 129
V-19229TF
43.5
229″
19"
40
500 x 99 x 161
V-23189TF
48
189″
23"
40
370 x 84 x 135
V-23239TF
62
239″
23"
50
375 x 107 x 130
Are You Interested in the Thru-Feed Vibratory Tub?