Here you'll find a comprehensive selection of accessories and upgrades to enhance your mass finishing process. From HZ-Series machine accessories and upgrades to standalone solutions, we offer a range of high-quality products designed to improve control capabilities, increase safety measures, streamline workflow, and optimize results.
HZ-Series Machine Accessories & Upgrades
Enhance the capabilities of your HZ-Series machine with our wide range of accessories and upgrades. Designed specifically to complement and optimize the performance of your machine, these additions will take your mass finishing process to the next level.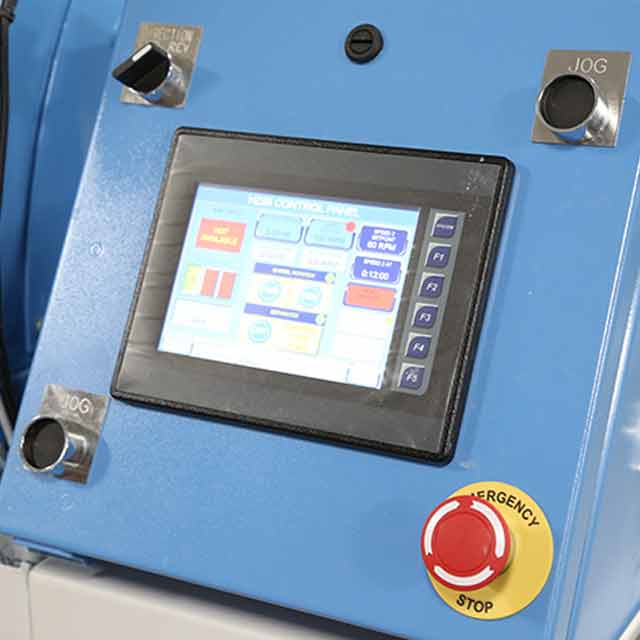 PLC Controller
The PLC Controller allows you to store recipes and processes, providing advanced control capabilities for your equipment. It offers maintenance reminders and machine diagnostics, making it easier to monitor and maintain your machine. Additionally, it enables automated forward/reverse and speed adjustment.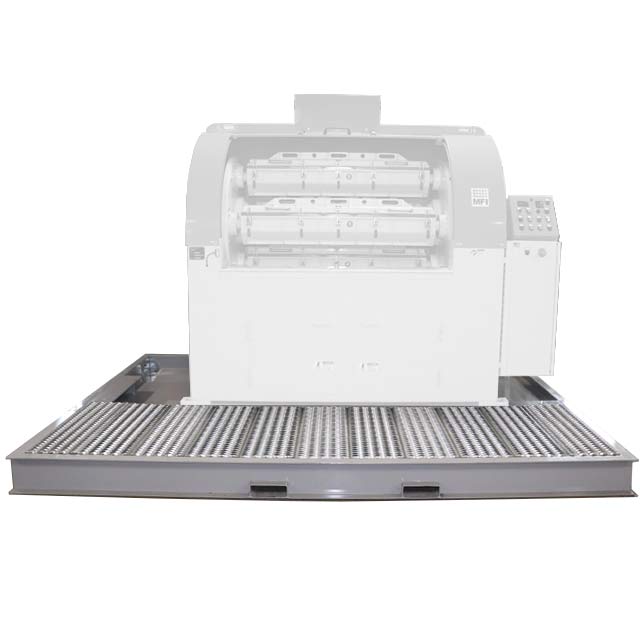 Drain Pan
The Drain Pan is designed to collect any water drainage that occurs during loading and unloading operations. It features a grip strut floor surface, which helps prevent operator slips and falls.
Dimensions: 100″ L x 79.5″ W x 8.5" H
Infrared Safety Light Curtains
These curtains enhance safety by disabling the machine if the curtain is broken while the door is open during loading and unloading operations. They provide an added layer of protection for operators.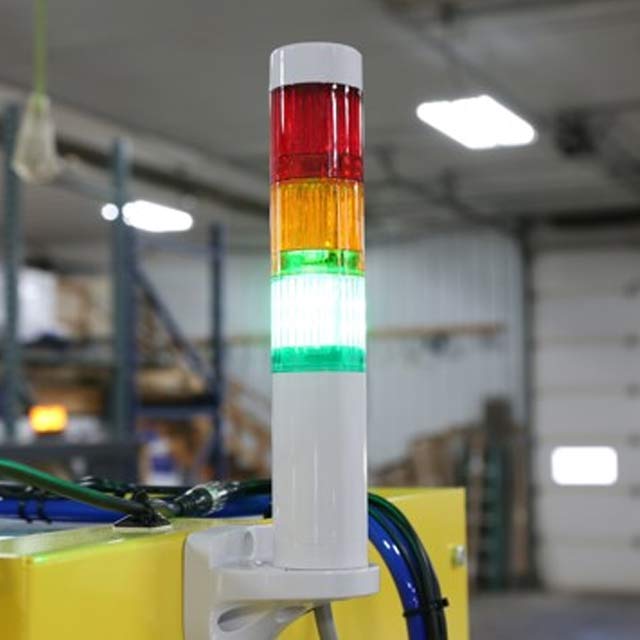 Light Tower Indicator
The Light Tower Indicator serves as a visual indicator of the machine's status. It can be customized to match the appearance of your existing equipment.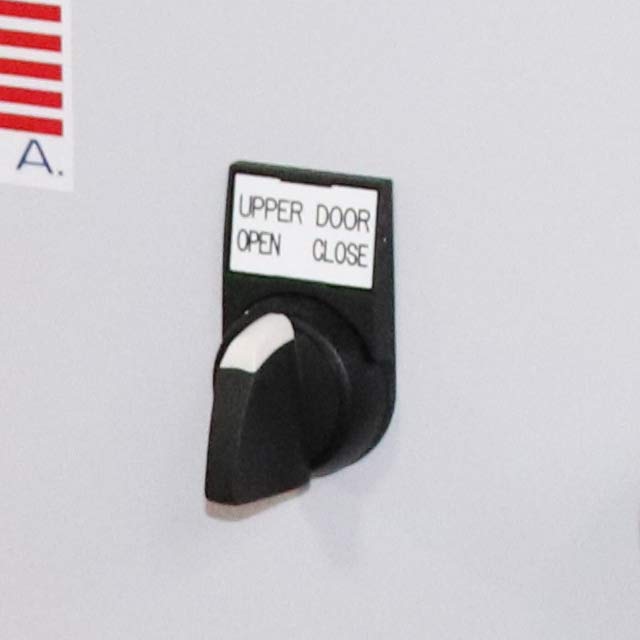 Automatic Door Opener
The Automatic Door Opener makes opening the main access door easier for operators, eliminating the need for lifting.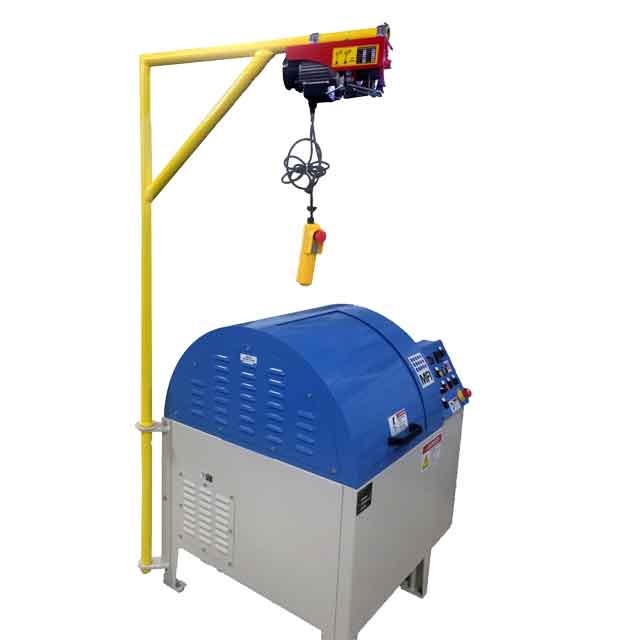 Electric Hoist
The Electric Hoist features an L-shaped jib arm with manual swivel and can be bolted on with brackets. It allows operators to lift barrels out of the machine with the push of a button.
Bolt-on installation with brackets
110-volt power requirement for operation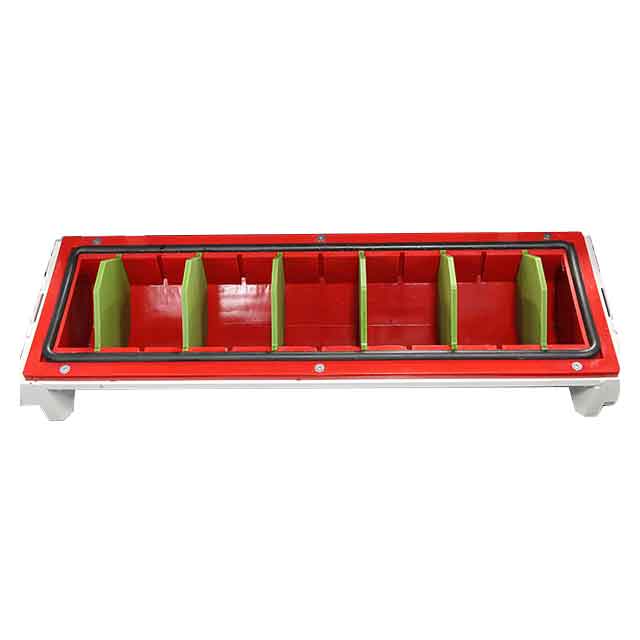 Barrel Dividers
Barrel Dividers create separate chambers inside each of your barrels. This helps organize and separate parts within each barrel, helping reduce part-on-part impingement. Each HZ-Series machine has its own custom-made barrel dividers to ensure a perfect fit.
Made from NYLOIL® A cast nylon
Available for all the HZ-Series models (except HZ-12)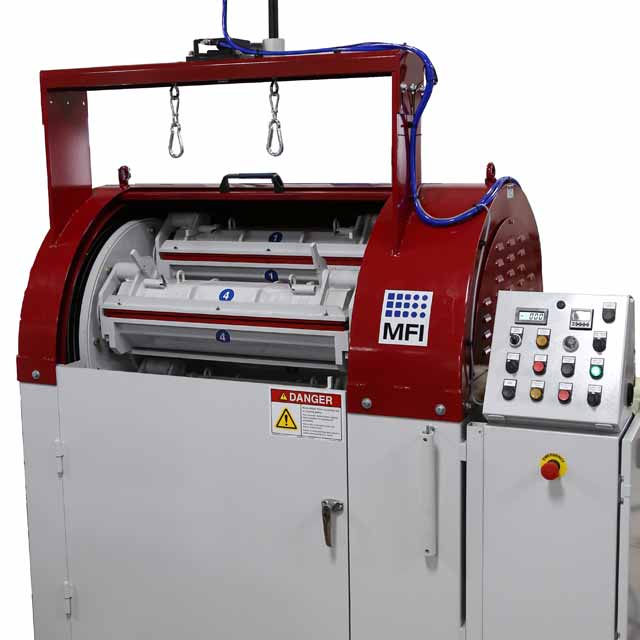 Custom Paint & Logo
Personalize your equipment with custom paint and logo. The paint can be matched to your specific color scheme requirements, and a sticker logo can be provided by MFI or the client.
In addition to our HZ-Series machine upgrades, we offer a range of standalone accessories that complement your mass finishing processes. These accessories are designed to optimize efficiency, simplify operations, and maintain the integrity of your media and parts.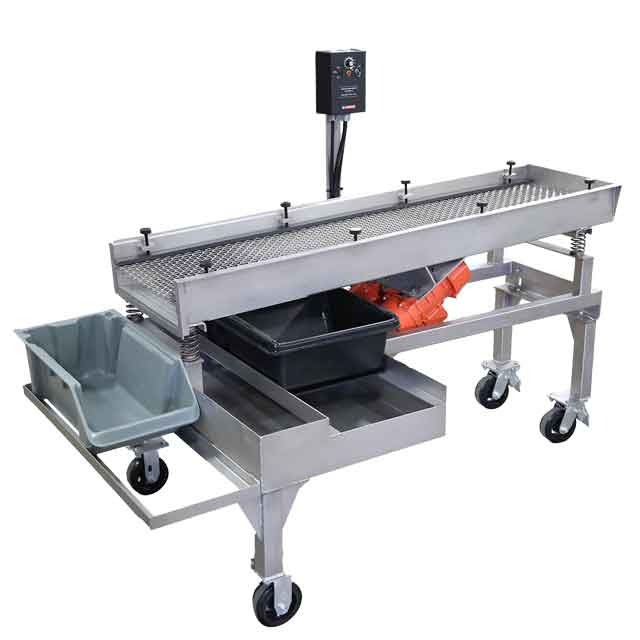 Free-Standing Media Separator
The Free-Standing Media Separator is an industrial-grade separator that allows you to separate media and parts. Simply dump fully loaded barrels onto the vibratory screen deck to easily extract smaller parts from the media.
Converted to 120v Single Phase
Dimensions: 36" W x 72" L
Additional stainless mesh or coated mesh screens available for purchase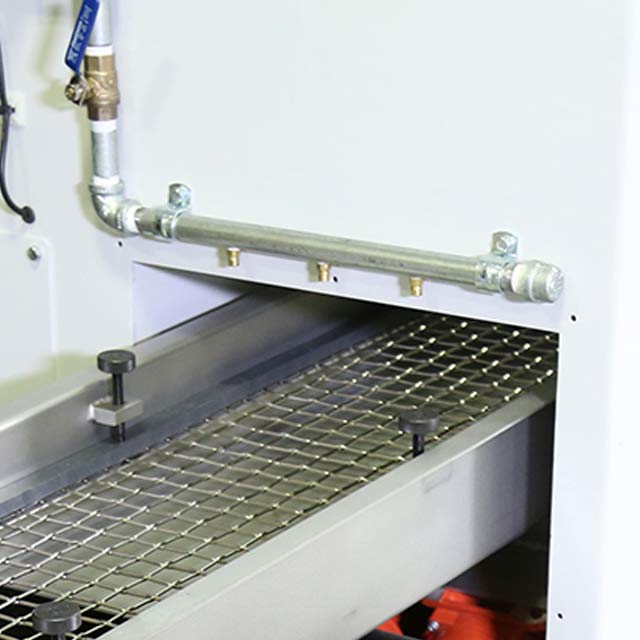 Spray Header for Separator
The Spray Header for Separator is a water spray bar that runs automatically when the separator is in operation. It helps clean the media and parts, maintaining their efficiency.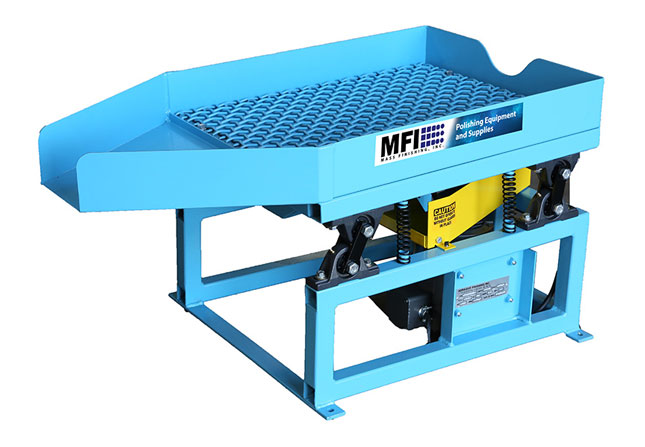 PV Media Separator
The PV Media Separator is a media and parts separating system designed for PV Tubs and other compact vibratory tubs. It is used to quickly separate parts from media, or for media classification. This machine saves time and labor costs by eliminating the need for manual sorting and filtering.
110v Single Phase
Dimensions: 26" W x 36" L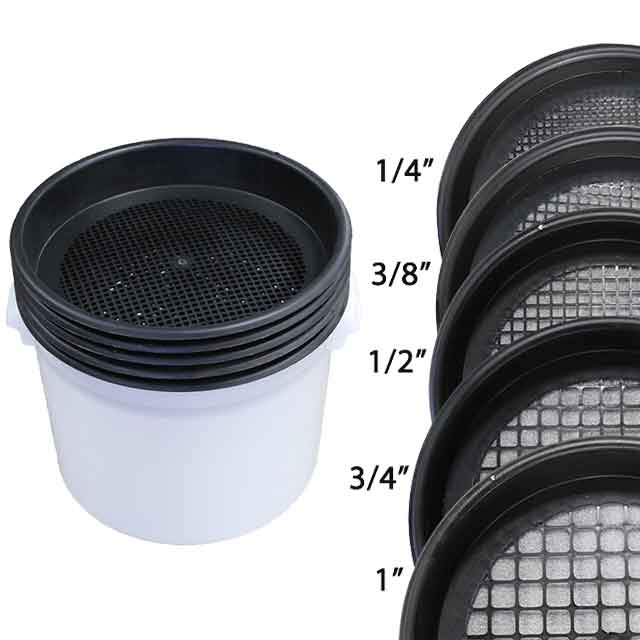 Media Screen Kit
The Media Screen Kit includes a simple bucket with five different-sized separating screens. It allows you to separate parts from the mass of media by shaking the bucket.
5 different-size separating screens
Screen sizes: ¼", 3/8″, ½", ¾", 1″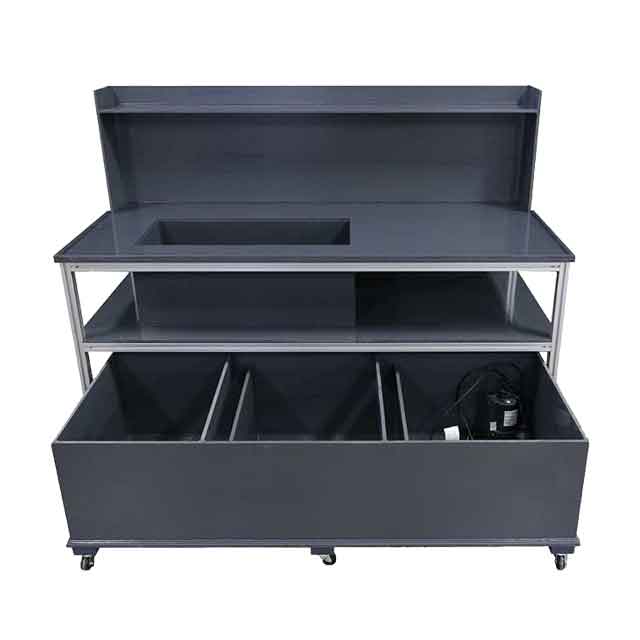 Processing Table and Sludge Tank
The Processing Table and Sludge Tank helps reduce the mess from the finishing process. It allows users to collect and settle out wastewater and easily clean out barrels. The table includes a three-compartment sludge tank mounted on casters for easier mobility. The sludge tank can also be sold separately.
Constructed of ½" PVC and anodized aluminum frame
Float pump included, no drain or pre-existing plumbing required
Dimensions: 72″ L x 32″ D x 58″ H (With Backsplash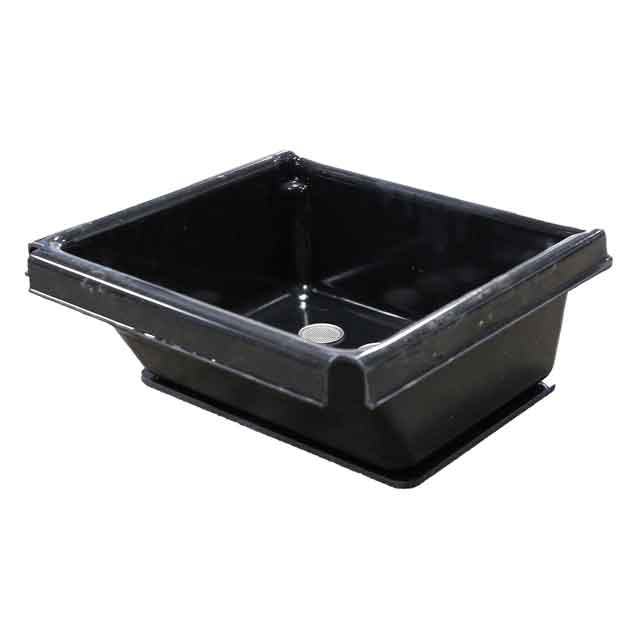 Media Drain Basket
The Media Drain Basket is an industrial bin with metal screens in the bottom, designed for draining water and solution from media and parts.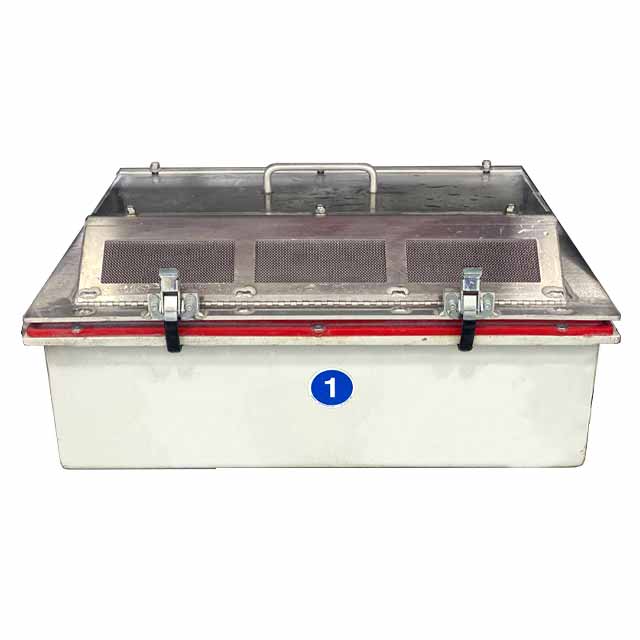 Rinse Screen
The Rinse Screen fits over barrels and dividers, attaching with quick latches. It allows you to spray out dirty water and debris without the need to dump barrels.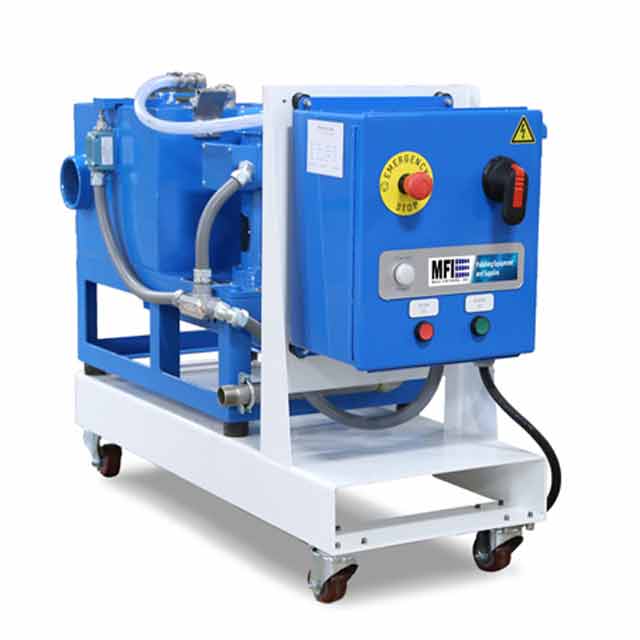 CF-55 Centrifuge Wastewater System
The CF-55 Centrifuge Wastewater System is designed to clean and process effluent from the tumbling process. Processed wastewater can be safely drained or used in a recycling system, while solids are collected through centrifugal action of the rotor via a reusable liner.
Two removable neoprene liners for quick and hassle-free cleaning
Dimensions: 39.25" L x 18.5" W x 26" H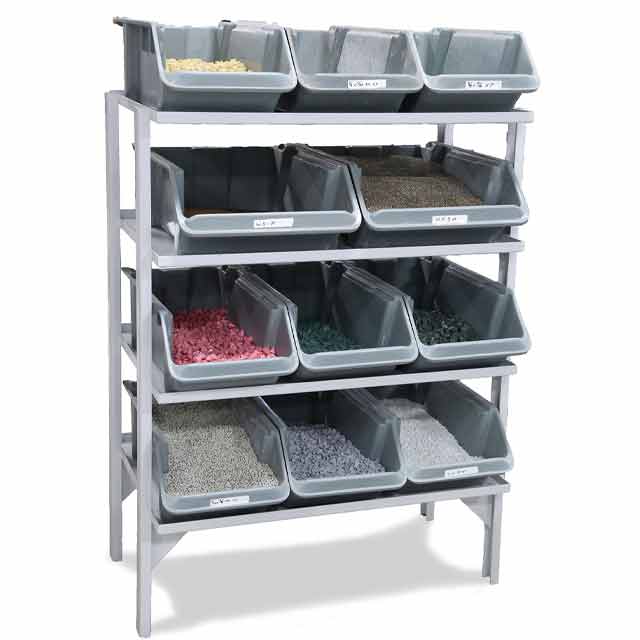 Media Storage Rack
The Media Storage Rack is designed to keep media out of the way when not in use. It features an industrial powder-coated steel construction and is made to fit 12 MFI gray media bins.
Dimensions: 48" H x 36" W x 24" Deep