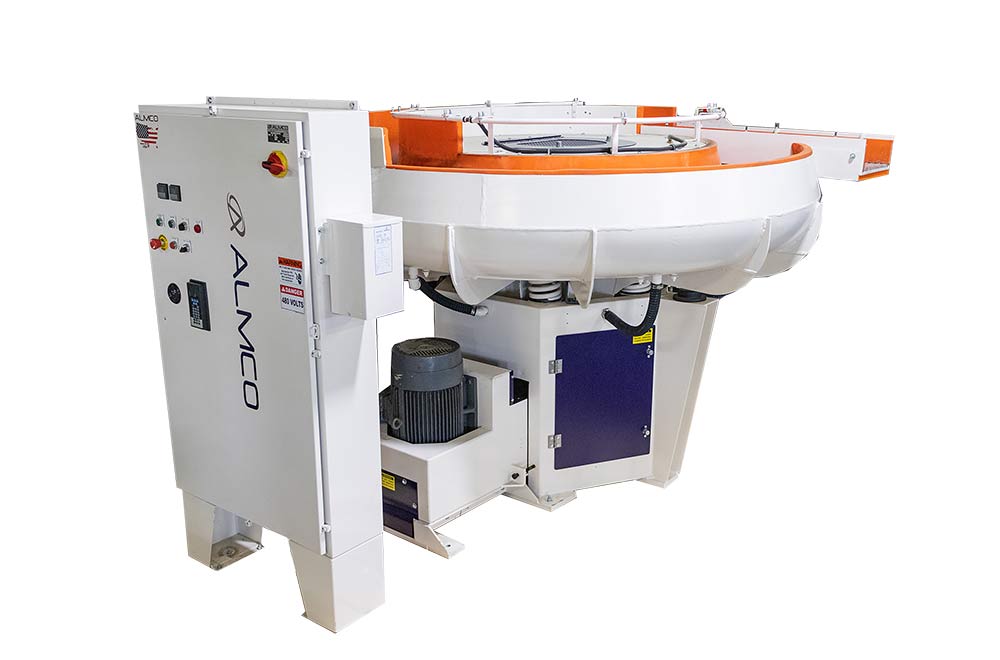 LR Series Vibratory Finishing Bowls
The LR Series Vibratory Bowls are manufactured by our sister company, ALMCO. They are well-suited for both through-feed and batch processing of parts and have a built-in internal separation system. LR stands for "long radius," as these bowls have a large working channel, ideal for finishing delicate or long and narrow parts.
About the LR Series Vibratory Bowl
Features
Once around and out parts flow or batch processing
Internal separation system
Natural contour molded urethane lined tub
Available in 230 or 460v / 3ph / 60hz (other voltages upon request)
Wet or dry process capabilities
Compact design for minimal floor space at low working heights
Variable amplitude (gentle or aggressive)
Variable progression
Multiple replaceable drain plates
Multiple sizes to fit your application
Optional Items
Automatic lubrication system
Flowmeter
Tachometer
Air-operated discharge door
Robust sound hood
Gate clearing feature for internal
separator
Various screen options available
UL 508A electrical controls
LR Series Basic Operation
The LR Series vibratory bowl functions through a vibrating motion that enables small abrasive media to interact with parts for finishing. The bowl is loaded with a blend of media, water, and compound that assists in the finishing process, and the parts are positioned close to the discharge screen. While the bowl vibrates, the media in the mixture grinds against the parts, ensuring a consistent and uniform finish. After the parts complete a pass around the bowl, an internal separation system separates them from the media.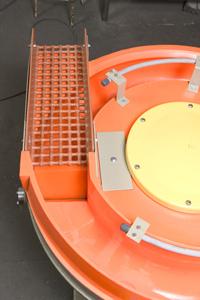 Available LR Series Models 
Model
Working Capacity
Cu Ft.
Channel Cross-Section
Vibrations
Per Min.

Drive Motor HP
Overall Dimensions
Inches
Shipping Weight Lbs.
OR-5VLR
4.2
8.25″
1500
3
54 x 54 x 36
2850
OR-9VLR
7.6
10″
1400
5
80 x 66 x 44
3925
OR16-VLR
15.2
12.5″
1400
10
96 x 84 x 50
5300
OR-25VLR
25.7
15″
1240
20
98 x 98 x 66
7500
OR-40VLR
38.8
17″
1240
25
114 x 114 x 78
9500
Are You Interested in the LR Series Vibratory Bowl?