SBB Series Vibratory Bowl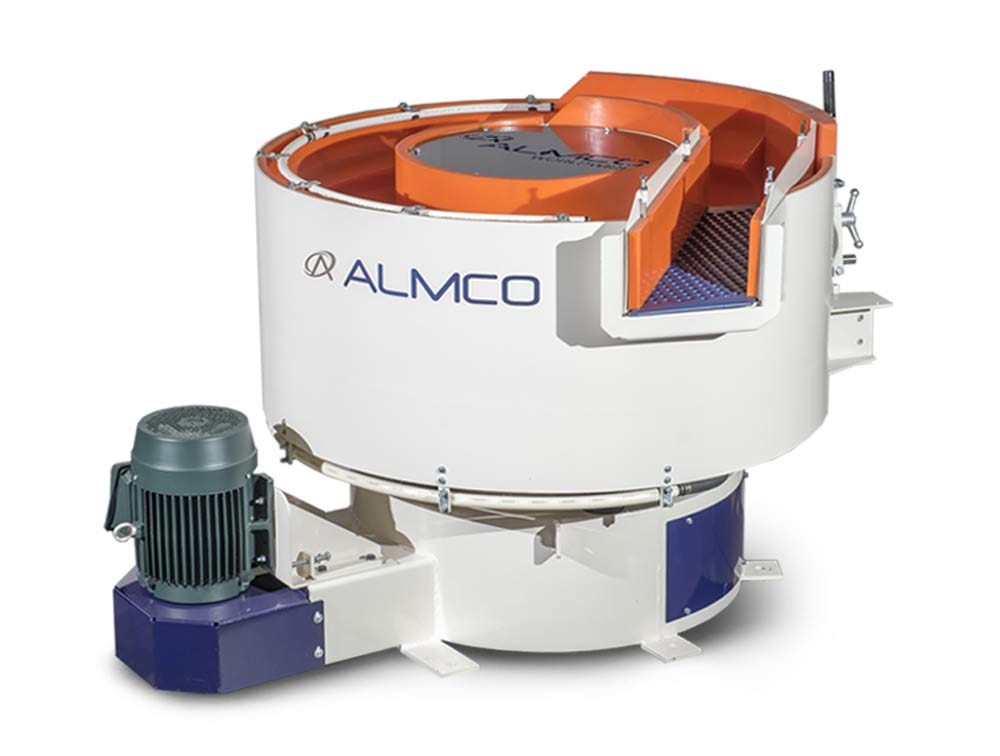 SBB Series Vibratory Finishing Bowls
The SBB Series Vibratory Bowls are manufactured by our sister company, ALMCO. They are well-suited for both through-feed and batch processing of parts. SBB stands for "spiral bottom bowl," as these bowls have a large, curved processing chamber. The chamber is positioned below the screening section, allowing parts to travel around the bowl till discharge. This series can be equipped with an air-operated discharge door for a more-automated system.
About the SBB Series Vibratory Bowl
Features
Inclined helical urethane lined processing chamber
Continuous curved parts retention baffle
Variable amplitude with no tool adjustment
Digital process and unload timers to virtually eliminate operator involvement
Adjustable media progression
Optional Items
Automatic lubrication system
Flowmeter
Tachometer
Robust sound hood
Gate clearing feature for automatic internal separation
UL 508A electrical controls
SBB Series Basic Operation
The SBB Series vibratory bowl functions through a vibrating motion that enables small abrasive media to interact with parts for finishing. The bowl is loaded with a blend of media, water, and compound that assists in the finishing process. While the bowl vibrates, the media in the mixture grinds against the parts, ensuring a consistent and uniform finish. The larger curved processing chamber allows parts to travel around the bowl during batch processing. Equipped with a separator screen, media falls back into the bowl during part discharge. When equipped with an air-operated discharge door, these machines may be used in an automated system, eliminating the need for most manual intervention.
About the SBB Series Vibratory Bowl
| | | | | |
| --- | --- | --- | --- | --- |
| Model | Working Capacity (Cu Ft) | Channel Cross-Section | Drive Motor HP | Overall Dimensions (Inches) |
| SBB-8 | 8 | 12″ | 7.5 | 80 x 60 x 46 |
| SBB-12 | 12 | 13″ | 10 | 90 x 74 x 44 |
| SBB-24 | 24 | 17.5″ | 20 | 96 x 82 x 52 |
Are You Interested in the SBB Series Vibratrory Bowl?