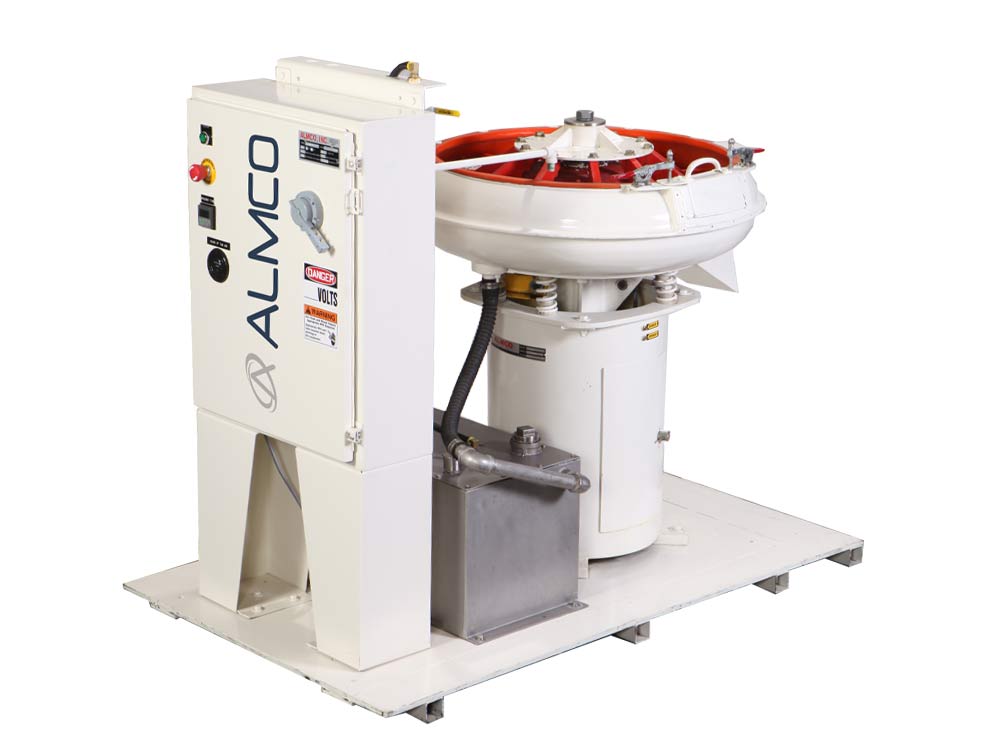 OR Series Vibratory Finishing Bowls
The OR Series Vibratory Bowls are manufactured by our sister company, ALMCO. It is the only vibratory bowl with dividers available, allowing operators to separate parts into different compartments. The ability to separate parts prevents part impingement and eliminates the need for fixturing, which is ideal when finishing sensitive parts.
About the OR Series Vibratory Bowl
Features
Multiple sizes to fit your application
Natural contour molded urethane lined tub
Available in 230 or 460v / 3ph / 60hz (other voltages upon request)
Wet or dry process capabilities
Variable amplitude (gentle or aggressive)
Variable progression
Multiple replaceable drain plates
Optional Items
Tub dividers
Removable center dome
Variable frequency
Sound enclosure
Automatic lubrication
Air-operated discharge door
OR Series Basic Operation
The OR Series vibratory bowl utilizes a vibrating motion that enables small abrasive media to come into contact with parts for finishing. It is fitted with a rotating divider that provides multiple compartments for parts handling. The bowl is filled with a mixture of media, water, and compound to aid in the finishing process. Featuring a natural contour molded urethane-lined tub, the OR Series ensures that parts are fully immersed in the mass and are subjected to a thorough deburring while both the media and parts rotate in an upswept angular clockwise movement. Parts are loaded and unloaded from the rotating mass without the need to stop the machine.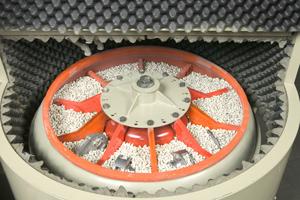 About the OR Series Vibratory Bowl
Model
Working Capacity
(Cu Ft)
Channel Cross-Section
Vibrations
Per Min.

Drive Motor
HP
Overall Dimensions
(Inches)
Shipping
Weight (Lbs.)
OR-3
2.4
8.25″
1750
2
53 x 36 x 40
778
OR-5
4.5
10″
1500
3
57 x 45 x 40
1849
OR-10
8.1
12.5″
1400
5
69 x 53 x 49.5
2155
OR-20
17
17.25″
1400
10
80 x 60 x 52.5
4300
OR-23
22.8
19″
1400
10
80 x 66 x 55
4900
Are You Interested in the OR Series Vibratrory Bowl?