Mass Finishing Solutions for the Medical Industry
At Mass Finishing Inc. (MFI), we've been providing high-quality polishing and medical parts finishing to the industry for over two decades with our High-Energy Centrifugal Barrel Finishing Machines. From surgical tools and equipment to medical implant finishing such as replacement knee and hip parts, MFI is experienced in removing machine lines, breaking sharp edges, and adding a mirror finish to a variety of highly sensitive medical parts and devices. In fact, the medical industry is one of our largest customer bases!
Medical Devices & Implants
Medical Instrumentization
Acrylic products (such as hearing aids)
Ready to Send Your Sample Parts?
Running samples in our lab is the best first step in determining the right equipment and process for your part. We process most samples within a week, depending on the number of samples we're currently working on.
Recommended Medical Finishing Equipment: HZ-Series
Most customers in the medical and surgical industries choose our HZ-Series machine for their medical device finishing applications due to its ability to create a quick and consistent isotropic finish on parts. The fine isotropic finish produced by CBF machines is essential for medical implants, plates, screws, and other medical parts, as it reduces plaque buildup and leads to fewer complications with surgeries and procedures.
MFI's machines are also ideal for finishing acrylics such as those used in the production of hearing aids and other acrylic medical devices and implants.
Benefits
Add a mirror finish to highly sensitive parts
Reduced labor costs and production time
Create a quick and consistent isotropic finish
Smooth out critical surfaces of precision parts
Remove machine lines
Break sharp edges
Medical Industry Average Process Times
Light Edge Break/Deburr
5 – 20 minutes
Rough Grind/Deburr
20 – 60 minutes
Full Polish from Raw Part
30 – 90 minutes
* Process times vary depending on the starting surface roughness.
Popular Equipment for the Medical Industry
The following models tend to be the most popular choices for medical and surgical equipment. The right model for your application will depend upon your specific part size, your production volume, and your finishing requirements. A full list of available equipment can be found on the equipment page.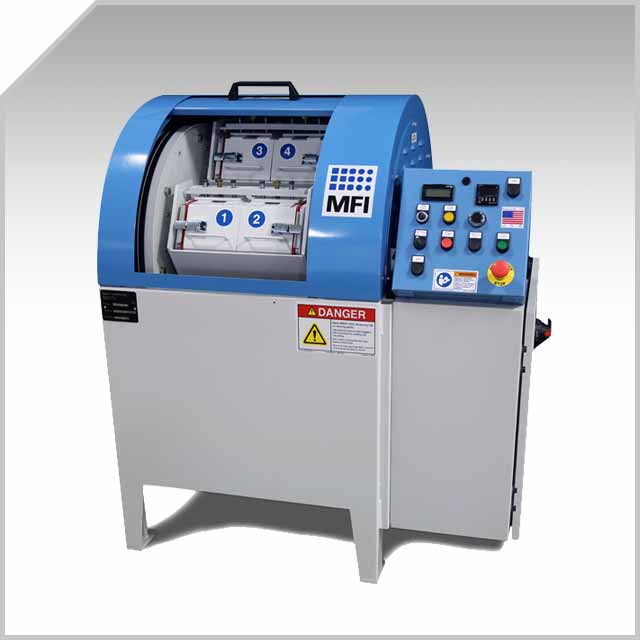 Compact machine with 4 options of removable barrels. Ideal for smaller medical parts.
Machine Type: Entry Level
Max Part Size: 11″ L x 5.5″ D
Barrel Dimensions: 12.5″ L x 6.75″ D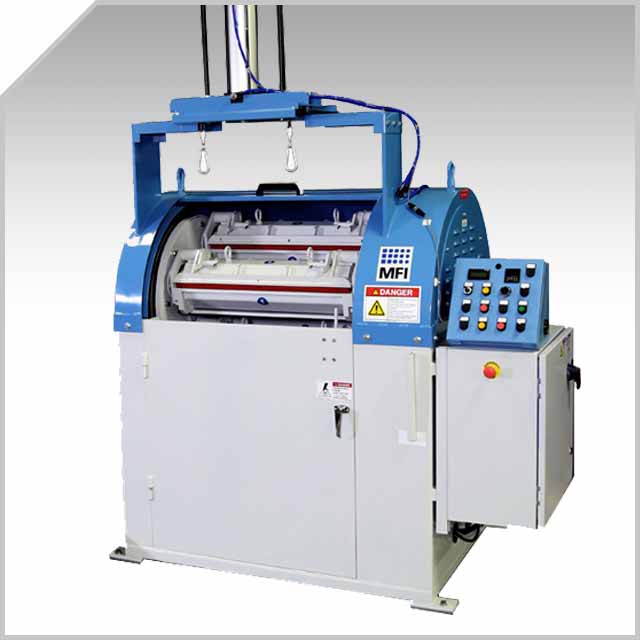 Full-size machine for larger production volume and part sizes.
Machine Type: High Efficiency
Max Part Size: 24″ L x 5.5″ D
Barrel Dimensions: 25.75″ L x 6″ D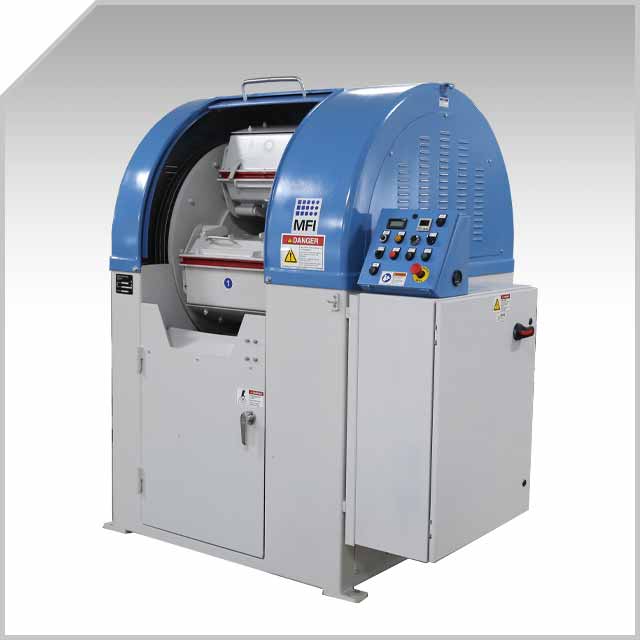 Full-size machine with a wider diameter barrel for larger medical parts.
Machine Type: Wide Diameter
Max Part Size: 16″ L x 9.5″ D
Barrel Dimensions: 17.25″ L x 10.25″ D
Do you have a larger part or need more capacity? You can view our Max Part Size Chart to see what model is best equipped to handle your part size and production volume.
Common Materials: Aluminum, Carbon Steel, Stainless Steel, Inconel, Titanium, Peek
Enhance Your Mass Finishing Process with the Right Media Selection
Media is an essential component in the finishing process and is required for the proper operation of any Mass Finishing equipment. Finishing media is carefully selected based on its composition, shape, size, and performance to optimize the efficiency and effectiveness of the finishing process.
In addition to the wide variety of media and liquid and powder compounds in our Media Store, we also manufacture our own corn cob blends at our manufacturing facility in Howard Lake, MN.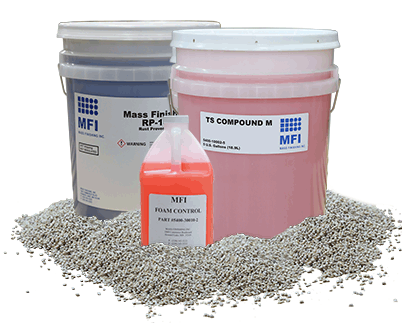 Achieve a Higher Quality Finish on Medical Parts