W-5 Vibratory Finishing Tub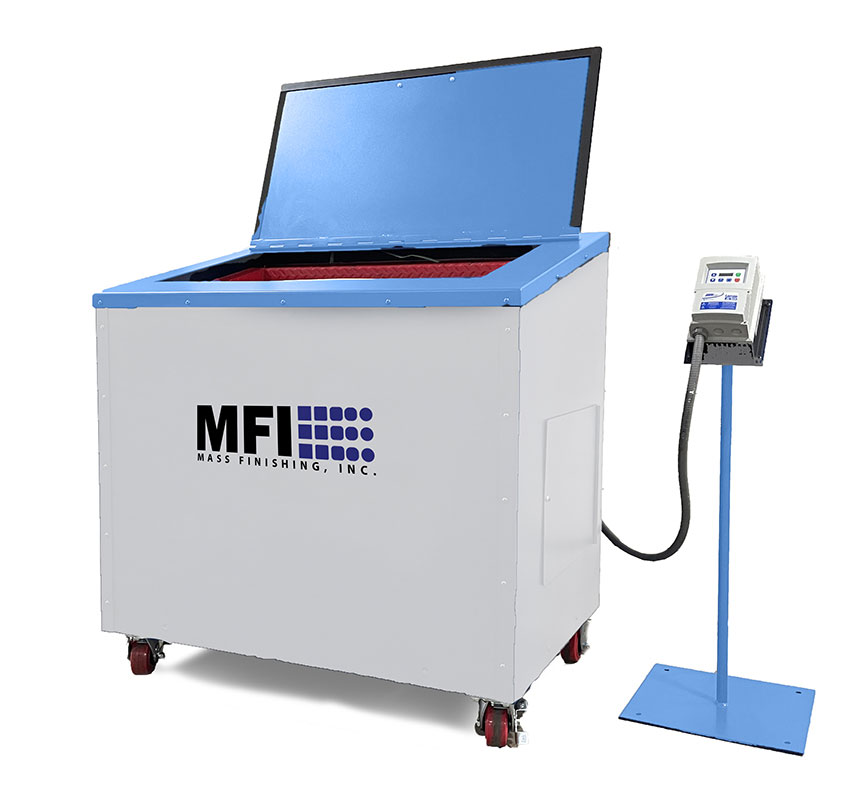 W-5 Vibratory Tub Finishing Machine
The MFI W-5 Vibratory Finishing Tub is a versatile and cost-effective piece of equipment that can be used for a variety of metal and plastic finishing applications. The industrial caster wheels make it easy to move the unit around the shop floor, allowing manufacturers to perform vibratory tumbling, polishing, or deburring in-house and on demand.
About the W-5 Vibratory Tub
The W-5 Vibratory Finishing Tub is designed to be easy to maintain. The polyurethane-lined tub is durable and long-lasting, and the machine is equipped with a sound cover to reduce noise levels and keep the process contained. The W-5 is its ability to run both wet and dry media, depending on the application. This makes it a versatile choice for manufacturers who need to finish a variety of parts.
The machine also comes with a range of standard features, including:
An electronic variable speed drive
Digital tachometer
Balanced suspension vibration unit
Hinged sound cover
Media discharge door
10 gallon settling tank and recirculation pump
The MFI W-5 Tub operates using an electric motor to drive an unbalanced shaft, which creates a powerful vibratory action in the polyurethane-lined tub. Inside the tub, abrasive or non-abrasive media rolls in a large mass, providing a gentle yet thorough finish on your parts. Simply drop your unfinished parts into the mass and let the W-5 Tub do the rest. After a specified amount of time, your parts will be removed and left smoothed and free of sharp edges and burrs.
Additional W-5 Specs & Resources
Main Motor HP

1.5 HP Totally enclosed fan cooled (TEFC)

*230/460, 3 Phase, 60 cycle motor Option

Customer to supply their own disconnect
NO 110 Volts on machine
NO timer and no receptacle for auto compound)

Voltage
Total Capacity

5 Cubic Feet (140 liters)

Internal Tub Dimensions

35.25" Long (820mm)
19" Wide (480mm)
19" Depth (480mm)

Approximate Shipping Weight
Overall Dimensions

39" Tall with Cover Closed (990mm)
47" Tall with Cover Open (1193mm)
45"Long (1143mm)
31" Deep (787mm)

Total Footprint
Media Discharge Height
Machine Construction

Heavy duty steel
All welded construction
Reinforced, gusseted, and welded to maximum strength

Tub Construction

U-Shaped configuration with 90 durometer urethane lining 3/4" minimum thickness.
Drainage area provided on bottom of the tub.

Vibratory Mechanism

Heavy duty tapered roller bearings support a machined drive shaft and eccentric weight through a precision machined bearing housing for maximum efficiency

Unloading System
Compound Pump
Cartridge auto grease system

For lubrication of the vibrator bearings. Consists of  a  reservoirs with grease and adjustable cycle
$1,300.00

100 gallon settling tank

Separates solids from wastewater stream
Includes sump pump to remove effluent
$1,700.00

Compound Auto Flow

Dosatron Brand
Automatically mixes preset amount of cleaning compound with water
System allows operator to flush premixed solution from vibratory tub with water only
$1,800.00

Media and Compound

MFI Stocks all consumables used in testing
Media is sold in 50 or 55 lb. bags or boxes
Compound is available in ½, 5 and 55-gallon containers
Pricing Varies Depending on Media Type

Tub Divider

Split Tub into multiple compartments
$600.00
Are You Interested in the W-5 Vibratory Tub?