RF-50 Centrifugal Disc Finisher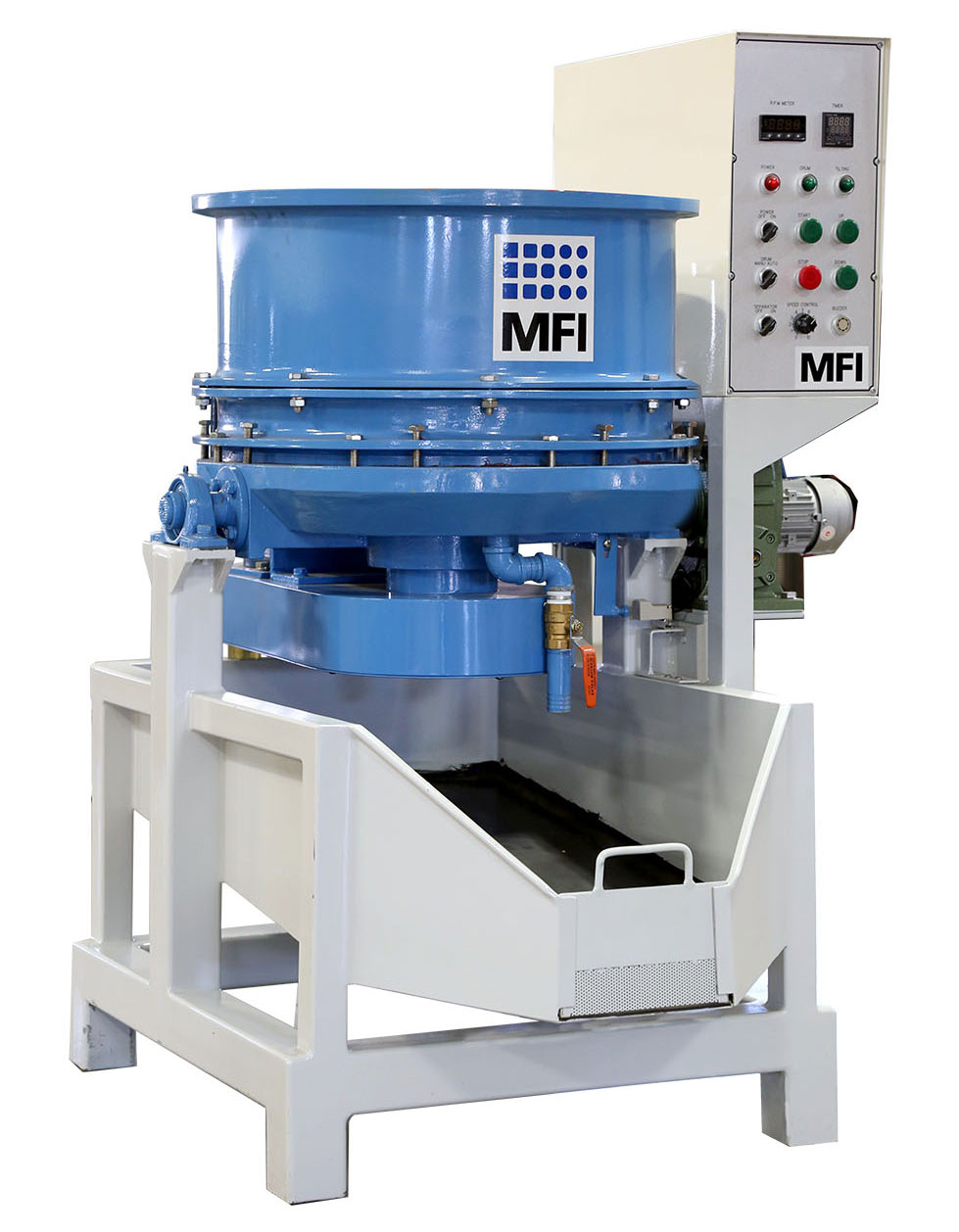 RF-50 Centrifugal Disc Finishing Machine
The RF-50 Disc Finisher is an economical finishing machine. This model has over double the capacity of the RF-20, while still maintaining a compact size. It is ideal for smaller shops or for use in areas where space is limited. The RF-50 requires manual loading and unloading and features a dumping system. Water and compound can be run continuously through the system, or it can be run as part of a batch process.
Capacity: 1.5 cu ft
Working Capacity: 1.5 cu ft
Overall L x W x H: 50″ x 37″ x 44″
Drum Size: 20″ x 15″
Motor: 2 HP
Weight: 850 lbs
Voltage: 230v or 460v
About the RF-50 Centrifugal Disc Finisher
Centrifugal disc finishing systems from MFI offer lower operating costs and a better finishing performance than vibratory finishers. The RF-Series can perform a wide range of deburring and polishing functions at 10 to 30 times the speed of vibratory finishers.
Standard Features
Variable Frequency Drive
Digital Process Timer
Polyurethane Lined
Upflow Drain System (water is pushed up thru disc gap & drains toward top of machine)
Finish Cycle Buzzer
Ideal Unload Height
Convenient Operator Control Console
Hydraulic Disc Unload
Variable Process Timer
Amp Meter
RPM Meter
RF-50 Centrifugal Disc Basic Operation
To operate the RF-50 Centrifugal Disc Finisher, manually load the barrel with media, parts, and compound. Turn on the machine and set it to your desired speed. Then, drop in your parts and allow the machine to complete the cycle. Once the cycle is finished, press the "stop" button to stop the cycle. Position the recovery bin under the machine, and slowly tip the barrel to separate the parts from the media.
Are You Interested in the RF-50?