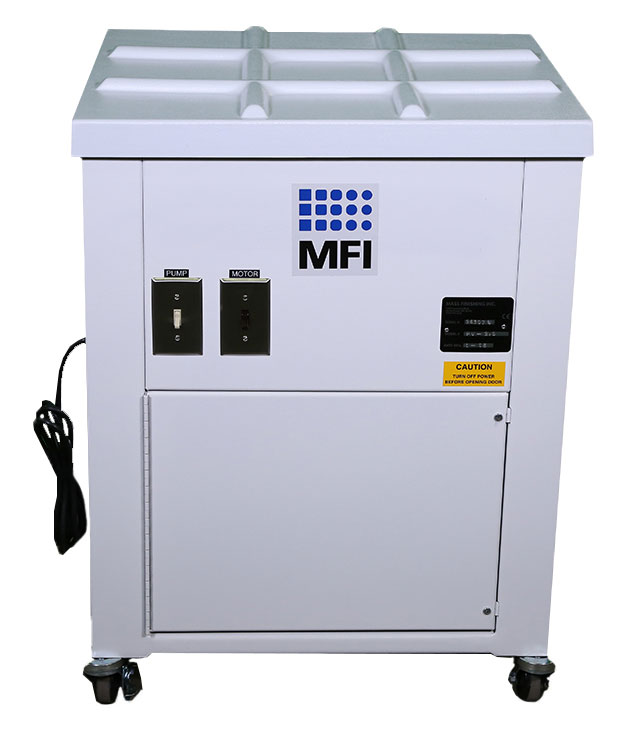 PV-2.5 Vibratory Finishing Tub
The PV-2.5 Vibratory Finishing Tub is an economical finishing machine ideal for deburring larger parts at lower volume. This model has over double the capacity of the PV-0.75, while still maintaining a compact size. It is ideal for smaller shops or for use in areas where space is limited. This compact, self-contained system is designed to provide quiet, cost-effective deburring for a wide variety of applications.
About the PV-2.5 Vibratory Tub
The PV-2.5 has swivel caster wheels, making it a portable finishing option for your facility. Additionally, the PV Series machines typically operate on low voltage, resulting in lower electricity costs.
Built for durability and years of dependable performance, the PV Series machines feature:
A fully welded and enamel painted 14-gauge steel base
Cast-urethane-ribbed tub linings
Sound abatement features (consistently maintaining an operational noise level under 85 dBA)
Utilizing a 2700 rpm vibratory eccentric shaft, the PV Series creates a powerful vibratory action in the polyurethane-lined tub. Inside the tub, abrasive or non-abrasive media rolls in a large mass, providing a gentle yet thorough finish on your parts. Simply drop your unfinished parts into the mass and let the PV Series Vibratory Tub do the rest. After a specified amount of time, your parts will be removed and left smoothed and free of sharp edges and burrs.
Processing Tub

U shaped configuration
5/8" thick 80 durometer urethane lining
15-3/4" deep x 15-1/2" wide x 19-3/4" long
2.5 cubic foot capacity
Drain in the bottom

Overall LxWxH

27″ L x 22.5″ W x 35.5″ H

Vibratory Mechanism

Rotates at 2700 RPM (Fixed)
Balanced, heavy-duty tapered roller bearings support the machined drive shaft and eccentric weight through precision bearing housing

Voltage
Motor
Weight
Discharge Door

Located at the end of the tub for unloading media

Machine Base

Constructed of 14-gauge steel
All welded construction
Reinforced and gusseted for maximum strength
Heavy-duty castor wheels with locking brakes

Sound Cover

Heavy duty plastic
Lined with acoustic foam to deaden sound

Internal Pump

Compound pump for recirculating water
Wired internally

Drive

Constant Speed Standard
Variable Speed Upgrade Available
Are You Interested in the PV-2.5 Vibratory Tub?