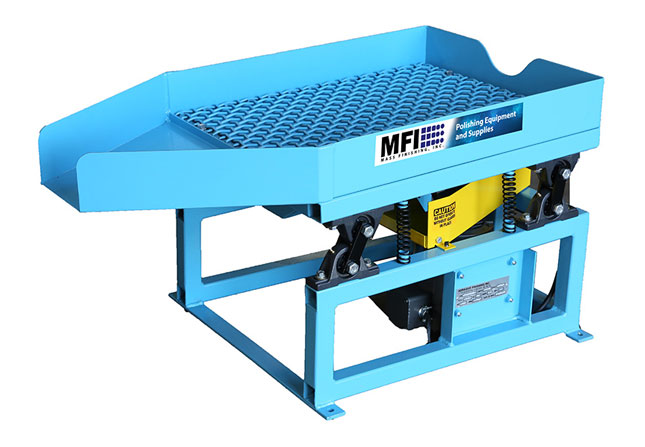 PV Vibratory Media Separator
The PV Media Separator is a media and parts separating system designed for PV Tubs and other compact vibratory tubs. It is used to quickly separate parts from media, or for media classification. This machine saves time and labor costs by eliminating the need for manual sorting and filtering.
About the PV Vibratory Media Separator
The PV Media Separator is a portable machine that can be easily moved within a plant or laboratory. It is designed with a removable screen system, which allows the user to quickly switch out the screen sizes, making it an incredibly versatile machine. Once a finishing job is complete, the user can simply open the discharge on the tub, and the media will fall through the screen, leaving the finished parts on top.
PV Media Separator Basic Operation
The motor mounted beneath the screen deck turns an unbalanced shaft that creates a vibration that allows media to be gently sifted away from finished parts. This is especially helpful where parts are small and would otherwise take a long time to sort from the media. The operator can simply allow media to flow from the tub and watch as the parts separate from the falling media on the screen deck.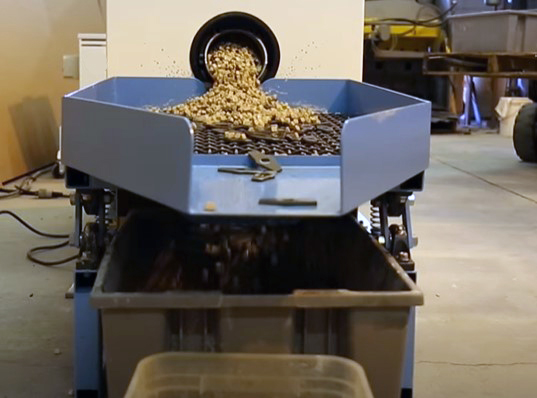 Additional PV Media Separator Specs & Resources
| | |
| --- | --- |
| Power | |
| Motor | |
| Weldment | Powder Coated steel construction |
| Feed Height | |
| Discharge Height | |
| Overall Footprint | |
| Shipping Weight | |
| Screen Dimensions | |
| Screen Openings | 3/8″, 5/8″, 7/8″, 1-1/2″ & 2″ wire mesh or polyurethane. Choice of one metal screen included with unit |