Processing Table and Sludge Tank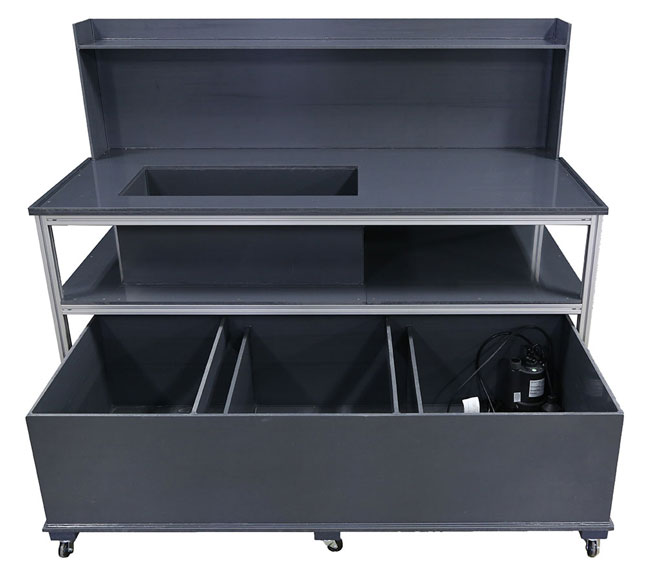 Mass Finishing's Processing Table & Sludge Tank is the perfect addition to any finishing operation. The three-compartment sludge tank acts as the first line of treatment in your wastewater system. Multiple shelving levels give the operator space to set things like chemical cleaners, towels, and tools, and the workstation is easily cleaned off with the spray of a water hose.
About the Processing Table & Sludge Tank
During the finishing process, some types of media can generate a slurry mixture consisting of worn-down pieces of media and the imperfections of your parts. This product allows you to collect and settle out wastewater and easily clear out barrels. Having an area where you can rinse off parts quickly can speed up your operation.
With a tough frame built out of anodized aluminum and PVC, this workstation can take a beating.
Features:
100-gallon capacity tank
Heavy-duty caster wheels
Float pump included, no drain or pre-existing plumbing required
Industrial construction
Sludge tank can be sold separately
*MFI also offers optional media pans and screens.
Processing Table & Sludge Tank Basic Operation
Water drains from the table and into the sludge tank, where it enters the first compartment. As the first compartment fills, the water travels through the baffling to the second and third compartment where it is pumped out. The baffles on the tank allow water to overflow from one compartment to the next while leaving heavy metals and solids behind. By the time the water reaches the third compartment, it is easily pumped out. Once the sludge tank is full, the swivel caster wheels make it easy to roll the tank into a different area for cleaning out.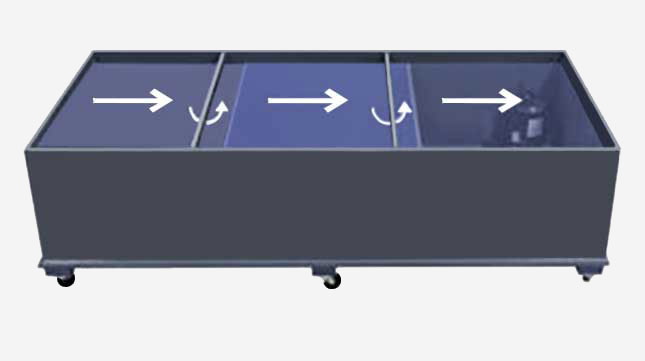 Additional Table and Tank Specs & Resources
Frame

2"x2"x1/8" thick Anodized Aluminum

Surface
Overall Table Dimensions

72" L x 32" D x 38" H (Without Backsplash)
72" L x 32" D x 58" H (With Backsplash)

Back Splash Dimensions
Sink Dimensions
Sludge Tank Dimensions

66" L x 27" W x 16" depth

Tank Capacity
Sump Pump

Superior Pump Brand
1/3 Horse Power, 110v
Tethered Float Switch
Handles 1/8" Solids
10' Power Supply Chord
1-1/4" or 1-1/2" NPT discharge
Flowrate of up to 2400 Gallons per hour (Depends on discharge height)