Mass Finishing processes roughly two to three samples every day in its Howard Lake testing lab. Many of the pieces tested are made of metal and alloys from customers looking for a high polish. In the last two years, many of the samples we're receiving are plastic, clear plastic to be exact.
Clear aligners made for straightening teeth were once a product market dominated nearly exclusively by Align Technology who created the Invisalign system.
With most of the patents related to Invisalign expiring, the door opened for new players to take a bite of the more than $4 Billion clear retainer apple. These newer startups offer clear aligner systems for a fraction of the cost. Patients can order them directly online while only going to an orthodontics office once. Fortune estimates the market will grow to nearly $10 Billion by 2026 because of the affordability of the newer products.
One of the leading drivers of the cost reduction are advancements in 3D printing technology. With detailed scans of a patient's teeth, providers can quickly and easily print custom molds in small local labs.
Once the molds are generated and the clear aligners are formed, there is finishing work to be done. This is where Mass Finishing technology comes into play.
Support Material Removal from 3D Printed Molds
Starting with the 3D printed mold of the patient's teeth. Some 3D printers require the use of soft wax-like support material to support the actual plastic teeth impressions during printing.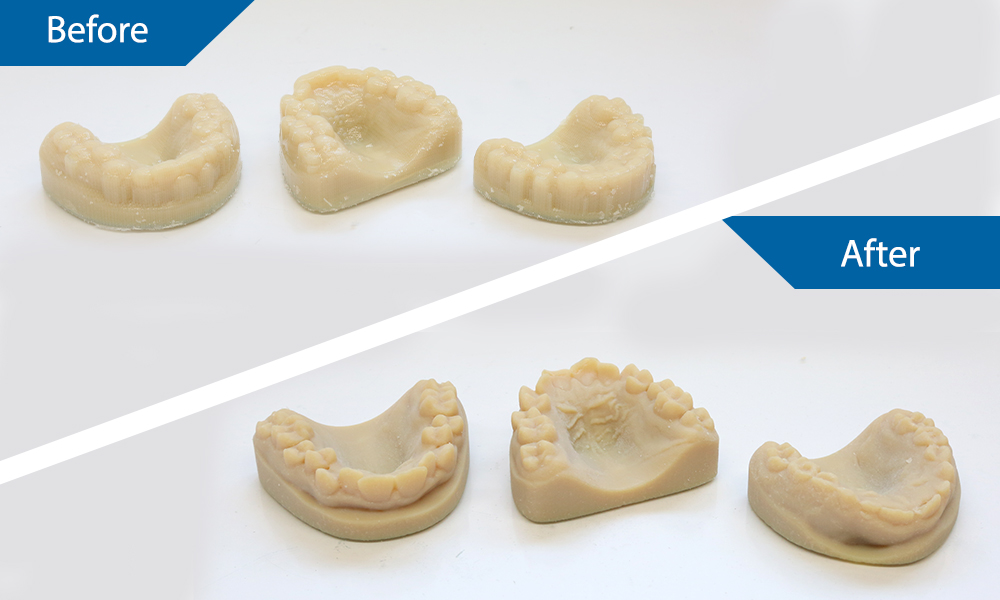 Mass Finishing centrifugal barrel tumblers can remove this waxy material from the hard plastic. The gritty soft material  comes off in a 15-minute cycle with no additional hand work required.
Removing Rough Edges from Clear Plastic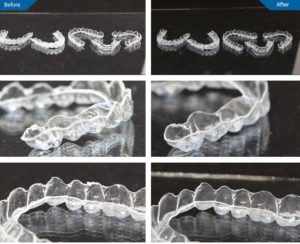 Once the molds are made, the clear aligners are formed by pressing the molds into clear plastic sheets. The newly formed aligners are then trimmed out of the plastic sheets. This trimming or milling process leaves the aligners with sharp edges where they meet the gumline.
When aligners are tumbled in Mass Finishing's HZ-Series Centrifugal Barrel Tumblers, this sharp edge is removed, and the aligners are polished. This is accomplished in one 15-minute process.Mass Finishing has installed dozens of machines around the US and the world to finish aligners. Depending on the volume of the dental lab, the HZ-12, HZ-40 and HZ-60 are popular options for this application.