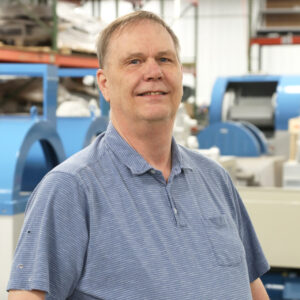 Jim Mikelson is the newest member of the Mass Finishing team and started this April. He filled a new role as Mass Finishing's Inventory Control Specialist, where he looks forward to assisting and applying his knowledge of Inventory Control principles. Jim believes in "working smarter not harder" by using software that is designed to improve inventory systems. Jim received his APECS certification and has helped revamp previous inventory systems for other organizations.
When asked what working for an employee-owned company means to him, Jim replied, "It is good to know that the hard work and attention to details I provide will all circle back to me and every employee-owner. Profit is important, and the fact that it is shared throughout the company, to all, is motivating." He also says, "Earning my place in this "family" will be satisfying and rewarding."
Jim believes customer satisfaction is such an over utilized expression. "We all have expectations when we buy a product. Easy to use, efficient, and cost-effective. These are the expectations I want the customer of MFI to never doubt," Jim stated.
Jim and his wife, Theresa, have 2 daughters and 2 grandchildren. When he isn't working, he enjoys camping in Voyagers National Park, fishing, hunting, and spending time with his family.