HZ-40 Centrifugal Barrel Finisher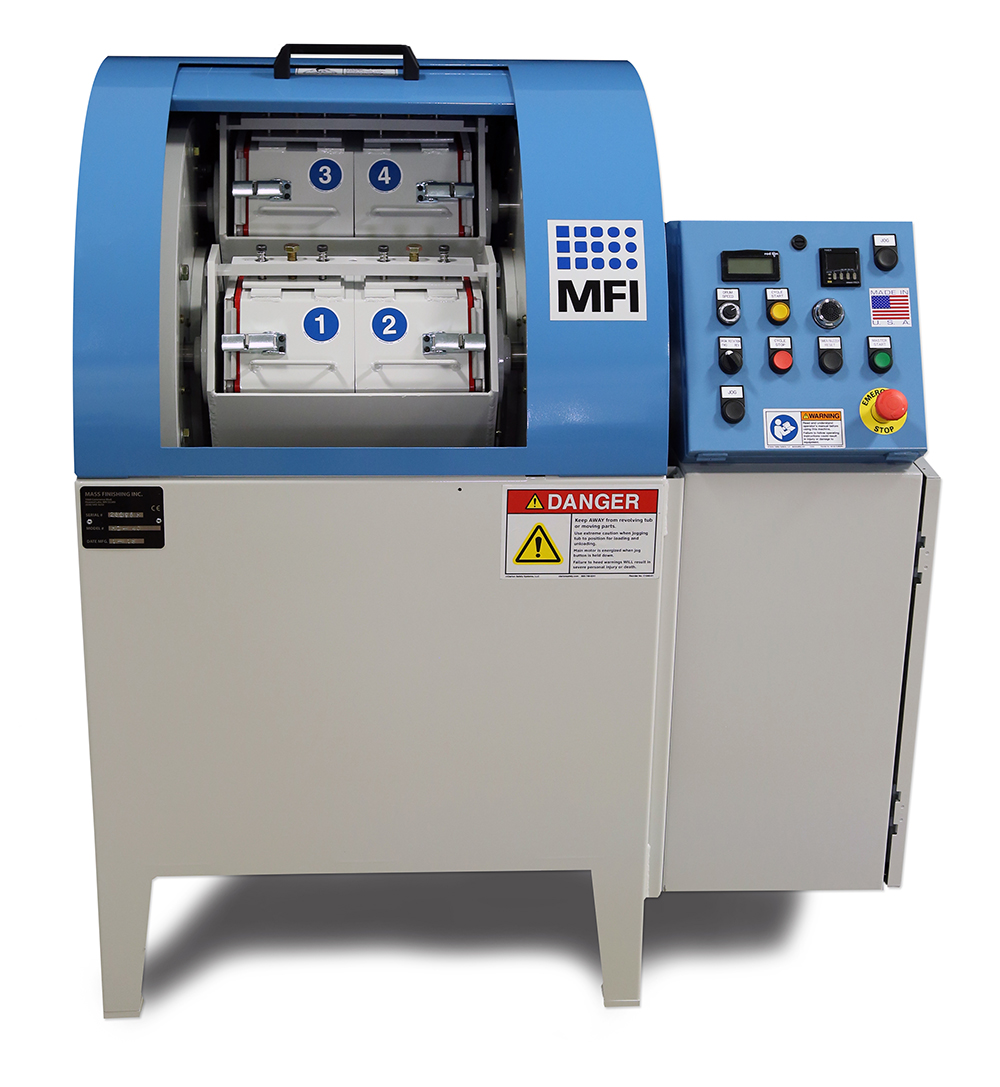 Specs
Total Capacity:
1.4 Cu. Ft.
Shipping Weight:
1280 lbs.
Dimensions LxWxH:
47"x38"x49"
Barrel Options
Two Sided Barrels:
8.75"x5.75"
Bolted End Barrels:
11"x5.875"
Latched-End Barrels:
12.5"x6.875"
Half-Size Barrels:
5.375"x6.875"
HZ-40 High Energy Centrifugal Barrel Finisher
The HZ-40 is a compact industrial deburring and polishing machine. The HZ-40 features four styles of removable barrels. The barrels sit in four cradles which are mounted on a turret. During operation, the turret spins and the barrels remain fixed creating a rolling wave-like motion inside the barrel. Small medical devices such as heart valves and stints, knees and other implants can be finished using multiple steps. These machines are also excellent in the 3D printing industry for improving surface Ra from 400-800 to below 32.
By purchasing a second set of four barrels, the operator can run one set of barrels while they are loading and preparing another. This can dramatically reduce downtime on the machine.
The HZ-40 Centrifugal Barrel Finisher works well in small places like dental and medical device labs or in cell productions. Despite its smaller stature, it still packs the same high-end finishing punch of its bigger counterparts.
In a matter of minutes this deburr tool can clean up metal, acrylic or rubber and other materials. They can drastically reduce the finishing time over vibratory machines.
Isotropic or Iso Finishing
The finish achieved by these machines is isotropic, meaning parts are polished uniformly and evenly in all directions, something that cannot be achieved by hand. Variable speed control allow these tumbling machines to achieve whatever finish the operator desires, from a simple polish at low speed, to full scale deburring and edge radiusing at full RPM.
HZ-40 Centrifugal Barrel Finisher Specs
Main Motor Hp

· 3 HP Leeson Brand

· Totally Enclosed

Voltage
· 230/460 Three Phase, 60 hertz (Single phase available upon request)
Total Capacity
· 1-1.42 cubic feet
Variable Speed Drive
· Allen Bradley PowerFlex 525
Approximate Shipping Weight
· 1300 lbs.
Overall Dimensions
· 47″W x 38″D x 49″H
Machine Construction

· Heavy duty steel

· All welded construction

· Reinforced, gusseted, and welded to maximum strength

Barrel Construction

· Various size barrels available (See Below)

· Removable lids

· Lined with polyurethane 1/4" min. thickness

· Entire barrel can be removed from machine to load/unload media and parts.

Control Panel

· NEMA 12 enclosed panel

· UL Certification (Available upon request)

· Allen Bradley buttons and switches

· 0-100 Hour cycle timer mounted on panel

· Power jog of turret

Brake

· Automatically stops the turret when a stop is activated or cycle is completed

· Activated if door is opened

Barrel Options
Two-Sided Barrels

· Can use dividers Non-removable liners

· Inner Dimensions- 8.75″x5.75"

Bolted-End Barrels

· Inner Dimensions- 11″x5.875″

· Heavier Duty with Removeable Liners

Latched-End Barrels

· Inner Dimensions- 12.5"x6.875"

· Highest Capacity with removable Liners

Two Half Barrels-

· Inner Dimensions- 5.375″x6.875″

· 8 Total with Removable Liners (2 per cradle)
| | | | |
| --- | --- | --- | --- |
| Barrel Type | Empty | Ceramic Media | Plastic Media |
| Two-Sided, Aluminum | 17 | 23 | 20 |
| Two-Sided, Steel | 24 | 30 | 26 |
| Half-Size, Latched End | 12 | 23 | 20 |
| Full-Size, Latched End | 24 | 49 | 43 |
| Bolted End Barrel | 24 | 40 | 36 |
| HZ-12 Latched End Barrel | 12.5 | 21 | 19 |
Free Standing Media Separator
· Industrial media and parts separator
· Dump fully loaded barrels onto vibratory screen deck to easily extract smaller parts from media
· 110 V Single Phase power requirement
Work Station and Sludge Tank
· Constructed of 1/2" P.V.C. and Anodized aluminum frame
· Includes three compartment sludge tank mounted on casters for easier mobility
· 72" L x 32" D x 58" H (With Backsplash)
Electric Hoist
· L-Shaped jib arm with Manual Swivel
· Bolted on with Brackets
· 110 Volt power requirement.
· Allows operator to lift barrels out of the machine with the push of a button
Media Screen Kit
· Simple bucket with 5 different size separating screens
· Screen sizes: ¼", 3/8", ½", ¾", 1"
· Separate parts from the mass of media by shaking bucket
Media Drain Basket
· Industrial bin with metal screens in the bottom
· Ideal for draining water and solution from media and parts
PLC Controller
· Horner Electric EXL6
· Store recipes and processes and gain access to machine diagnostics
Barrel Dividers

Made from NYLOIL® A cast nylon with built-in oil lubrication
Provides superior machinability, performance, and durability compared to other plastic.
Available on Two-Sided, Side Load barrels only
Light Tower Indicator
· Visual indicator of machines status
· Can be customized to match existing equipment
Infrared Safety Light Curtains
· Disables machine if curtain is broken while door is open during loading/unloading
· Added layer of safety
Media and Compound
· Required for running parts
· MFI Stocks all consumables used in testing process
· Media ships in 50- or 55-pound quantities
· Pricing Varies Depending on Type

­Centrifuge Module

CF55 SD Series Microseparator™

· Clean and process effluent from tumbling process
· Processed wastewater is safe to send to drain or be used in a recycling system.
· Solids are collected through centrifugal action of rotor via a reusable liner
· watch the video
Media Storage Rack
· Keep media out of the way when not in use
· Industrial powder coated steel construction
· Made to fit 12 MFI gray media bins
One Machine, Four Barrel Options
Two-Sided Barrel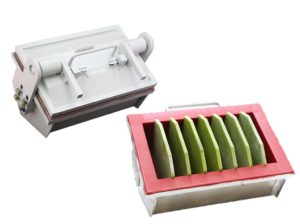 Allows for use of dividers
Heavy duty cam locks
Bolted-End Barrel
Best for high pressure
Removable polyurethane liner
Latched-End Barrel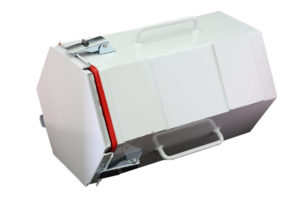 Largest capacity
Snapping latches for quick lid removal
Half-Size Barrels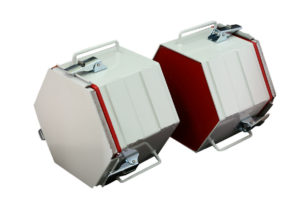 Light and easy to get in and out of machine
Latches for quick lid removal
How It Works
Centrifugal barrel finishers operate on the "Ferris Wheel" principle with a one-to-one ratio of barrel rotation to turret rotation. Each of the four barrels is loaded to roughly 50-80% full of media, parts, water, and compound. During operation, rotation of the turret creates a sliding force inside the barrel. This motion causes parts and media to contact each other in random or isotropic directions. The resulting finish is consistent across the entire surface of the part. MFI provides complete sample processing and stocks all required media and supplies.
Available Options and Accessories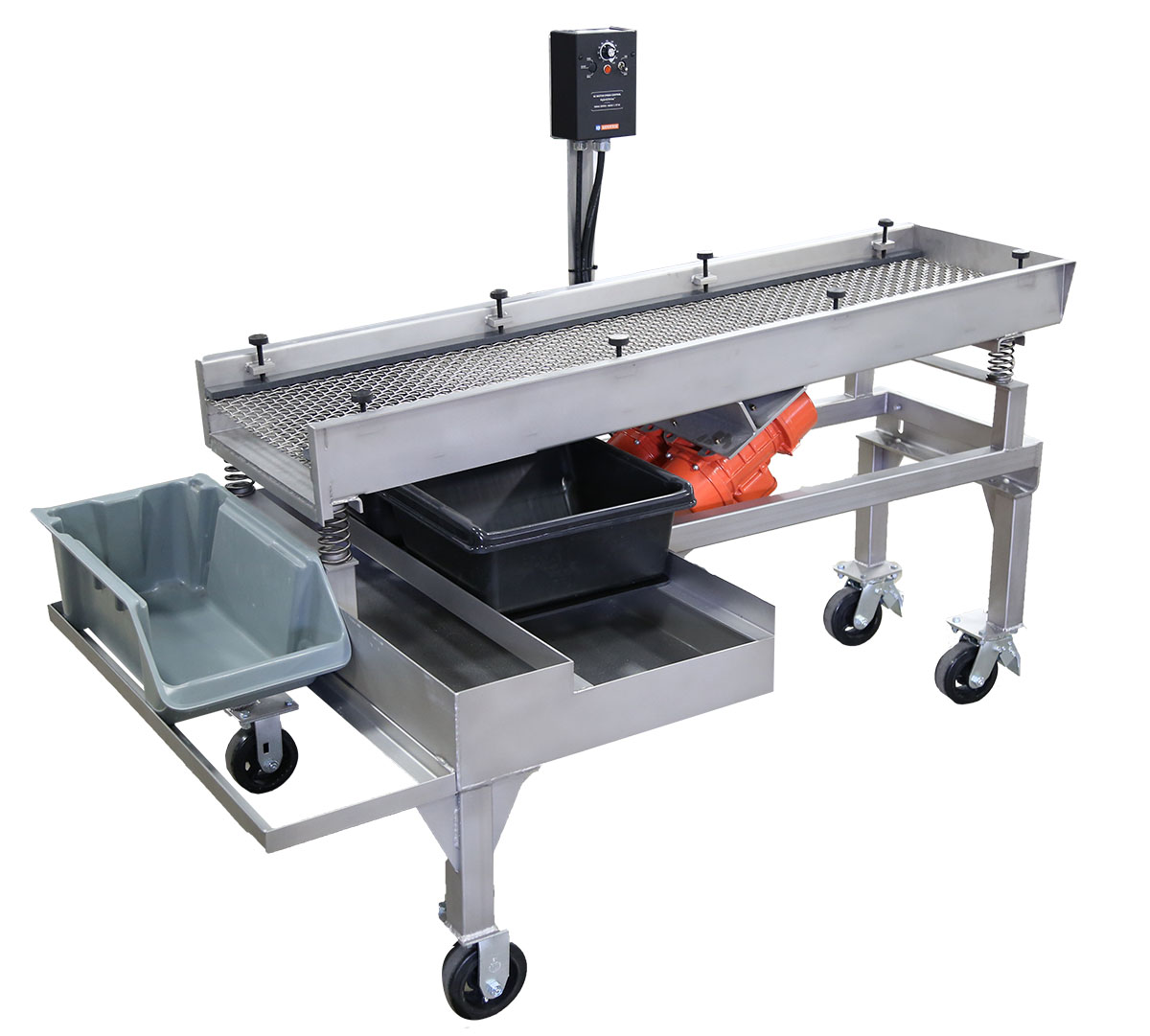 Make the media and part separation process simple with our free standing media separator. Dump full barrels on the vibratory screen and watch as the media and your parts separate.
Processing Table and Sludge Tank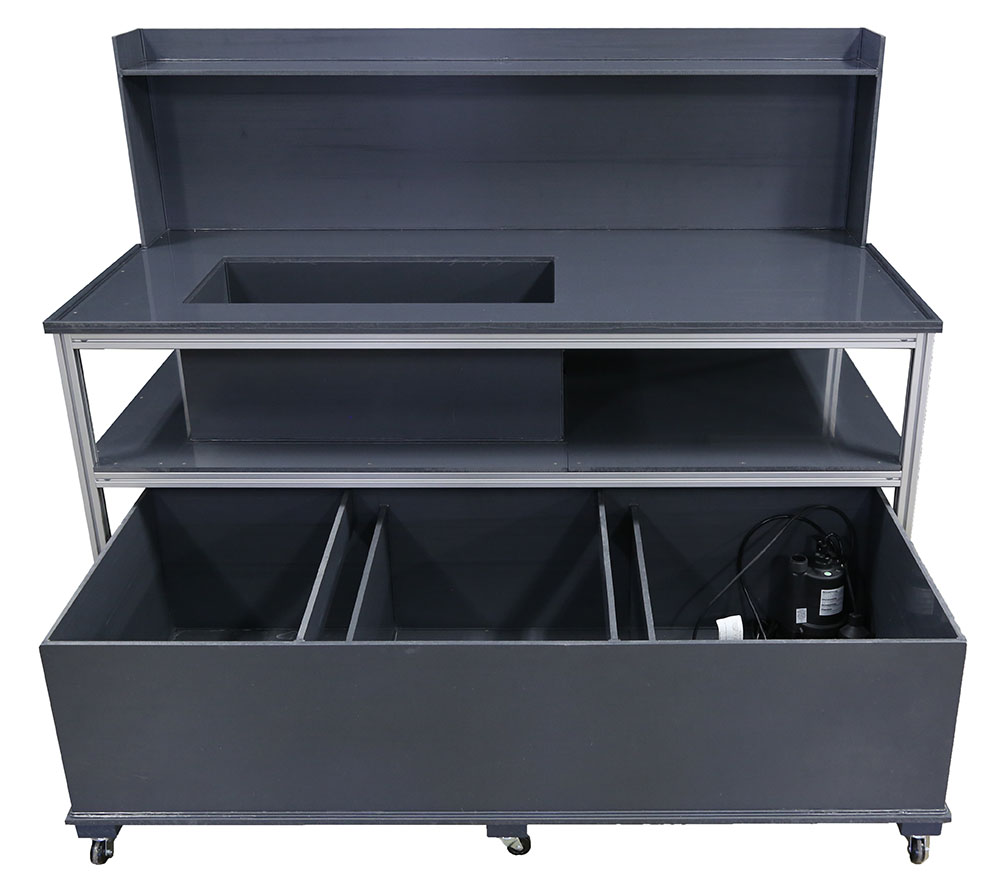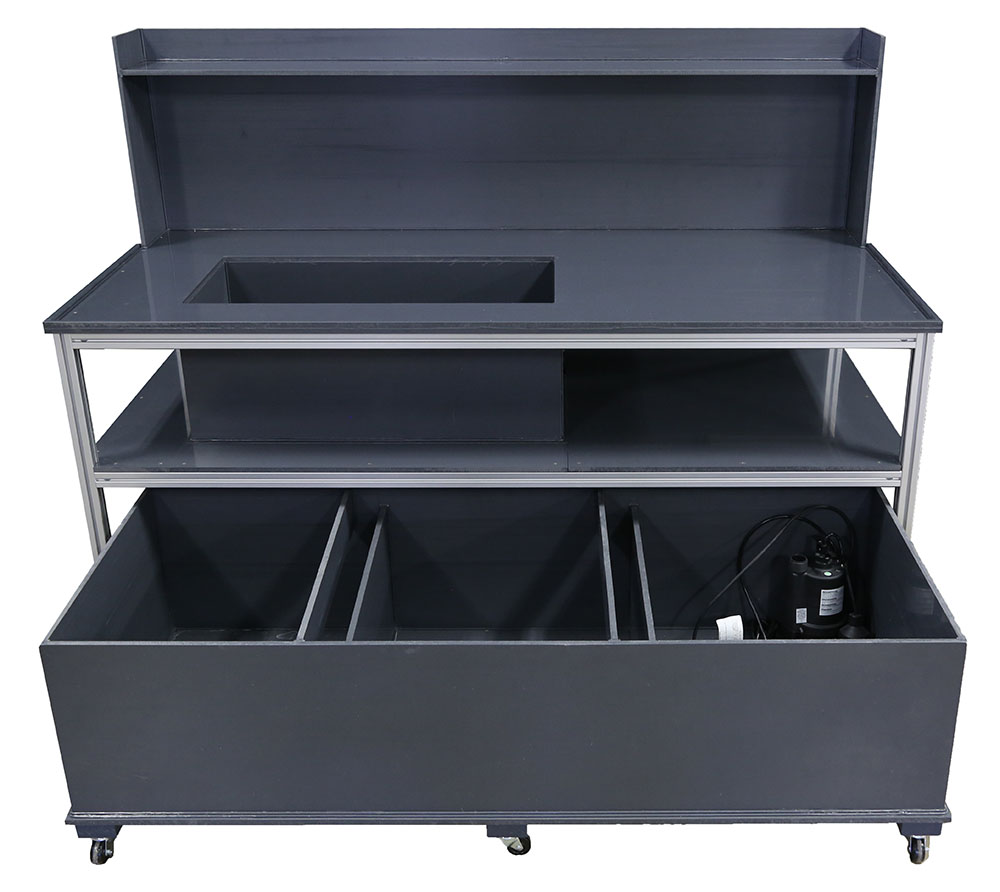 Reduce the mess from the process with MFI's processing table and sludge tank. Sediment from your tumbling process is collected and easily cleaned out.
PLC Touchscreen Interface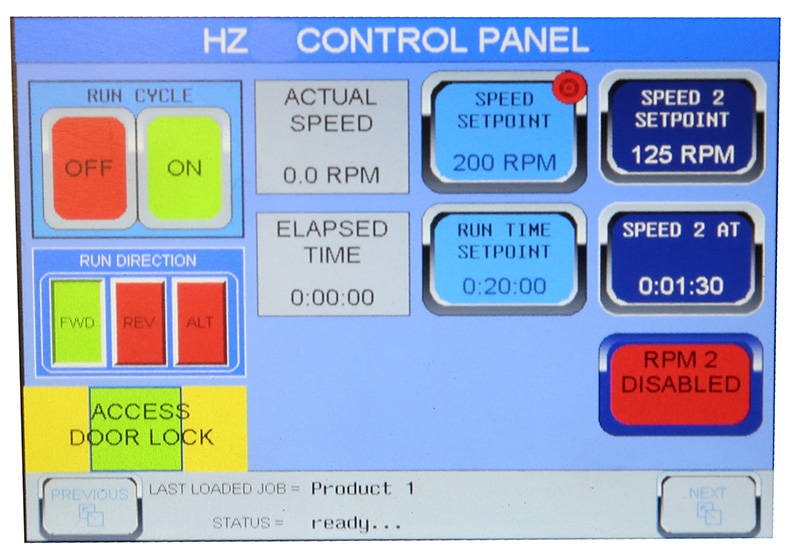 Store processes as recipes in this PLC touchscreen interface. This unit replaces the analog cycle start buttons and allows for better monitoring of machine use and time.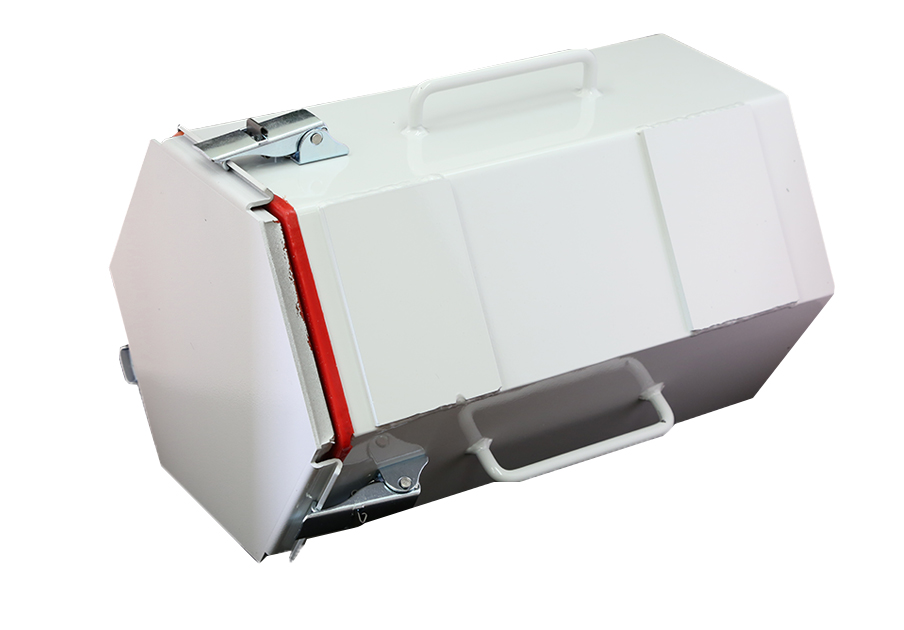 Dramatically reduce downtime on the machine by purchasing a second set of barrels. The operator can load and unload while the machine is running.