Free Standing Media Separator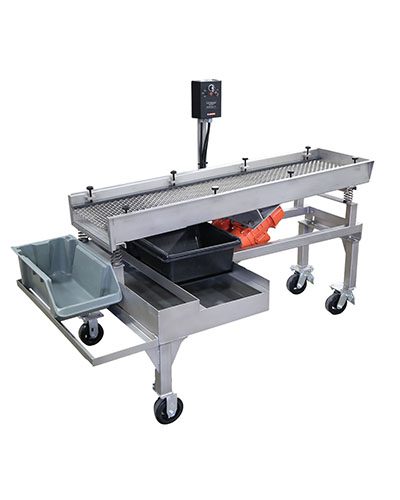 Specs
Screen Deck:
15.75" x 60"
Free Standing Media Separator
Mobile Media and Parts Separating System
MFI's free-standing media separator is a portable machine that can be moved wherever needed in a plant or lab. The PSA-1660FS Series is a great addition in operations that use centrifugal disc machines, vibratory bowl machines or the compact models in MFI's line of centrifugal barrel finishing machines like the HZ-12 and HZ-40.
The PSA-1660FS separator features a removable screen system that allows the user to switch out the screen sizes in a matter of seconds. These machines work great for separating parts from media, or for media classification.
The free standing media separator features a variable speed control switch. Once a finishing job is complete, simply pour barrels or buckets of finished parts and media into the separator and watch as the media falls through the screen, leaving finished parts on top. The heavy duty wheels and frame stand allow the operator to move the separator to the next machine or into a storage area when not in use.
How It Works
The two variable speed vibration motors mounted beneath the screen deck create a vibration that allows media to be gently sifted away from finished parts. This is especially helpful where parts are small and would otherwise take a long time to sort from media. The operator can simply dump full barrels from the HZ-12 or HZ-40 on the screen deck.