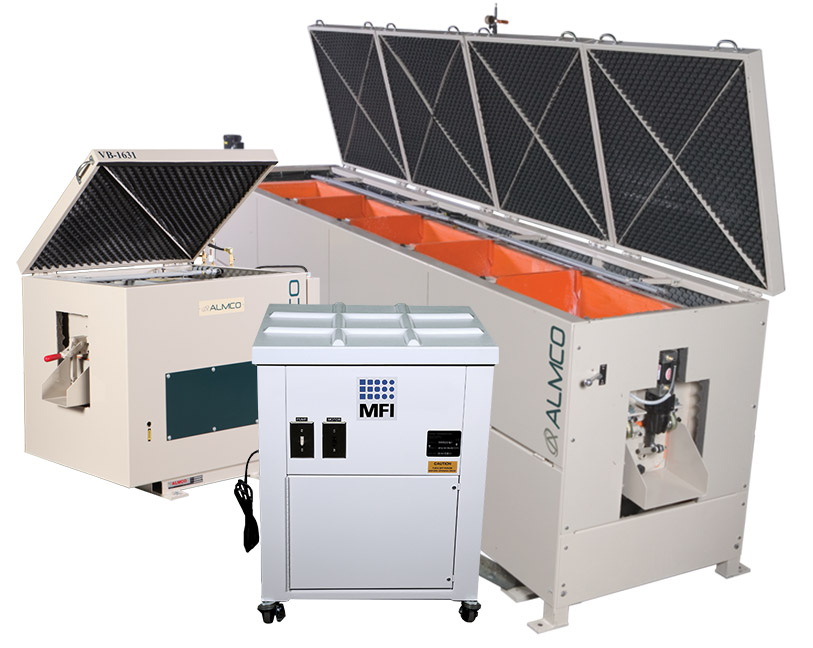 If you're looking to finish large parts or high production volumes, vibratory tubs are a great solution. MFI offers four lines of vibratory tub solutions to accommodate any budget or part size and volume.
PV-Series– These basic vibratory tumblers are simple to operate and are a relatively low cost option.
VB-Series– These tubs are built to handle constant daily use.
V-Series– A step up from the VB-Line, these tubs feature variable speed and automated discharge.
Thru-Feed– For high production volume these machines can run continuously and are great for inline production.
Simple Operation
Low Startup Cost
Easy to Maneuver
0.75 to 5 Cu. Ft.
Industrial Strength
Basic Operation
Lower Startup Cost
1 to 12.7 Cu. Ft.
More Automated Features
Variable Speed
Large Part/Volume Capacity
2.5 to 192 Cu. Ft.
Fully Automated
Inline Production
Continuous Load and Unload
8 to 192 Cu. Ft.