Test Sample Info Form
Filling out this information will help our lab engineers determine the best process for finishing your parts. By submitting this form, an email will be sent to our lab and sales team. This will help insure proper processing of your sample parts.​
Send in Your Samples
An essential step in determining the right equipment for your part is running samples in our lab. Once we have your parts in house, we'll determine what type of media and processing times it will take to get your desired finish. Please send samples to:
Attn: Sample Testing Lab
Mass Finishing, Inc.
1060 Commerce Blvd
Howard Lake, MN 55349

Be sure to include your contact information and any other information not provided in the form above. Providing us with your production volume and potential budget is essential for determining the equipment.
About the Testing Process
When your parts arrive, we'll take photos so we can compare what the parts look like after tumbling. After the before photos, the samples will go into the queue for test processing. There is typically two to three days of parts waiting to be tumbled at any given time.
Once in the lab, our test engineer will take a look at the parts and the information you provided about the desired finish. This includes determining the right media composition and size, and preparing the equipment for the test. After the parts reach the desired finish, MFI will log all of the parameters into a confidential test report.
We then will take photos of the parts after processing and put together a before and after collage to show you the results. We will then ship the parts back for your inspection. We will include a customer copy of the test report which will contain the necessary information you will need to make a decision on equipment. MFI is always willing to work with customers to guarantee you make the best choice for your company's needs.
Contact Us
sales@massfin.com
Toll Free: 1 (888) 260-6277
320-543-3222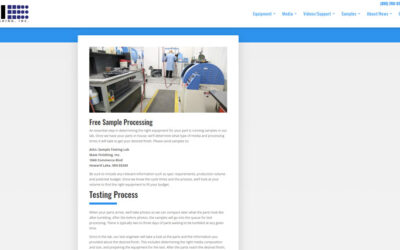 An essential step in determining the right equipment for your part is running samples in our lab. Seeing is believing, so we offer sample processing at no cost to prove that we can give you the return on investment and quality finish you need to make your business...