Mass Finishing Inc
A Leading Manufacturer of Finishing Machines & Supplies
Mass Finishing Inc. (MFI) is an industry leader in industrial parts polishing and deburring machines. Made for industrial use, our high-energy tumbling machines can reach upwards of 12 times the force of gravity (12G), which means they can achieve your desired results in a fraction of the time when compared to our competitors. With MFI, you can expect to save both time and money while achieving the highest quality finish for your parts.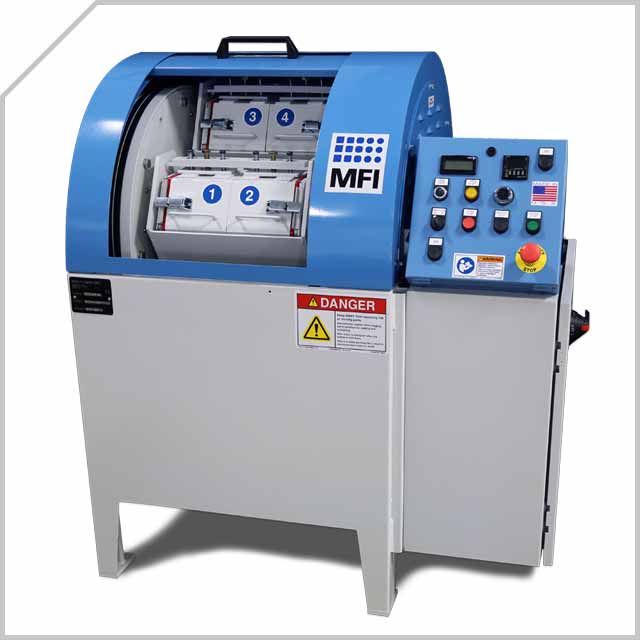 From acrylics to metals and rubber, MFI barrel tumbling and vibratory finishing machines are designed to create an efficient and repeatable finish on your parts.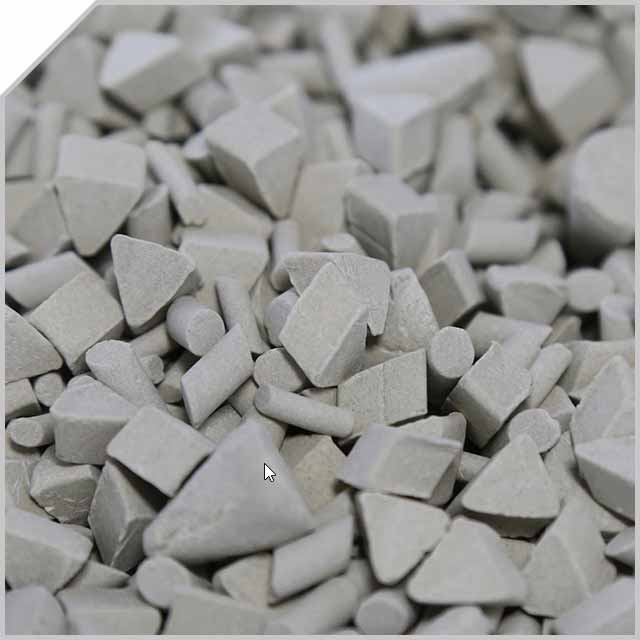 Mass Finishing offers a wide variety of media and compounds to handle any finishing job. Whether you have an MFI machine, or a different brand, we have the media and compound you need.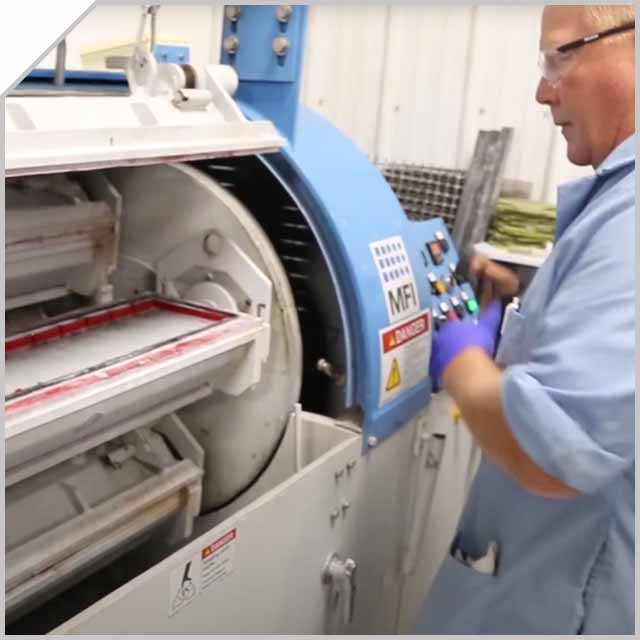 Leave the guesswork out of your production. MFI creates custom recipes and processes tailored to your business and designed to produce the exact results you require.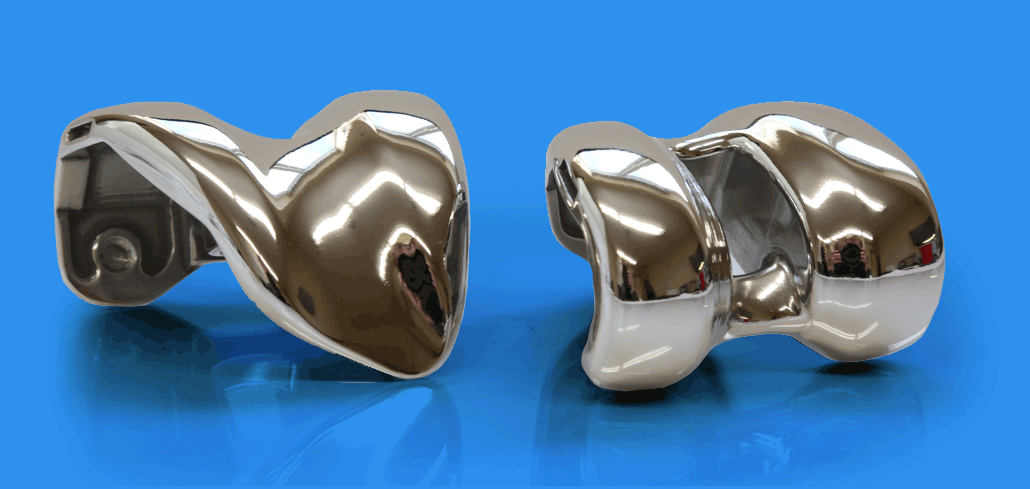 Want to Test the Process?
We can run sample parts to find the best finishing recipe – all at no cost.
The Advantages of High-Energy Finishing Machines
The term high-energy or high-speed finishing refers to industrial finishing methods where parts and media are subjected to pressure greater than the force of gravity through centrifugal force. 
The advantages of high-energy finishing over vibratory finishing are numerous. MFI Centrifugal Barrel Tumblers and Disc Finishers can reach upwards to 12 times the force of gravity (12G), making them much more aggressive and efficient than vibratory finishing. Rather than relying on vibration to wear away at the part surface, high-energy finishing uses the pressure and friction placed on parts and media to quickly remove material, polish surfaces, and create a uniform finish. This means that high-energy finishing can achieve a smoother surface finish in a fraction of the time, resulting in shorter processing times and consistent results.
In addition to being faster and more aggressive, high-energy finishing is also more precise than vibratory tumbling. It can achieve a higher level of surface finish, making it the preferred method for industries with precision parts. At MFI, we understand the importance of delivering a quality finish, which is why we offer a range of finishing equipment to meet your specific needs.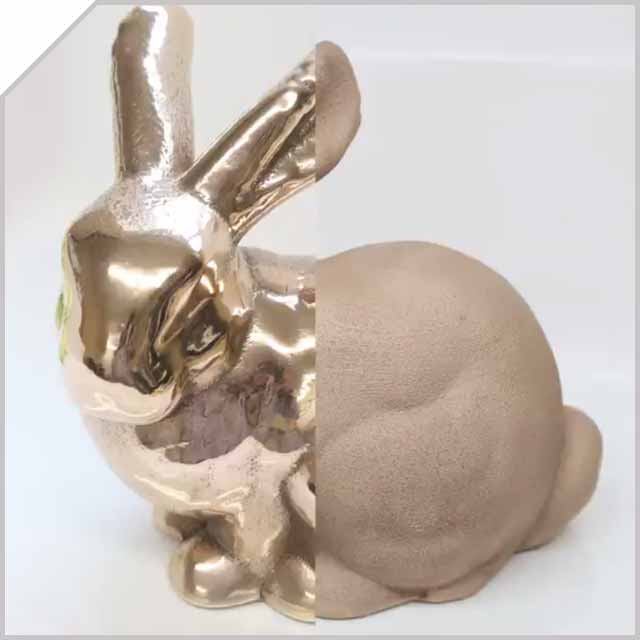 An essential step in determining the right equipment and process for your part is running samples in our lab. Let us show you the difference of high-energy finishing.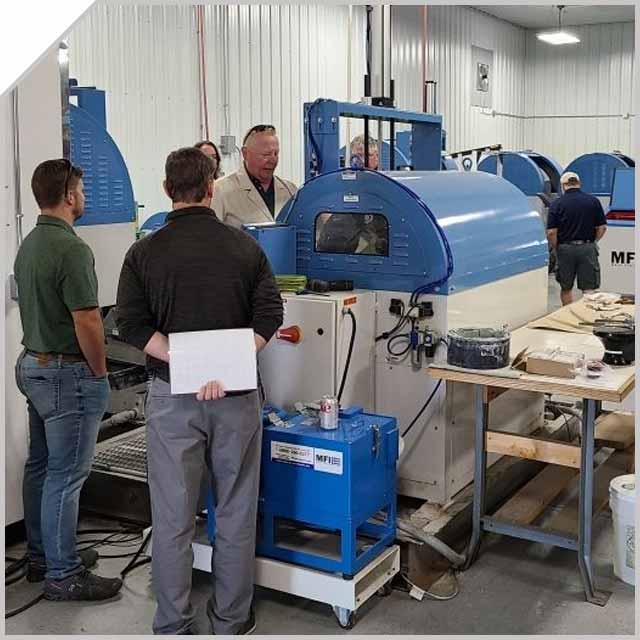 We provide lifetime equipment support, free of charge. Schedule an in-person visit, video demo, or contact our team directly for technical support and process-related questions.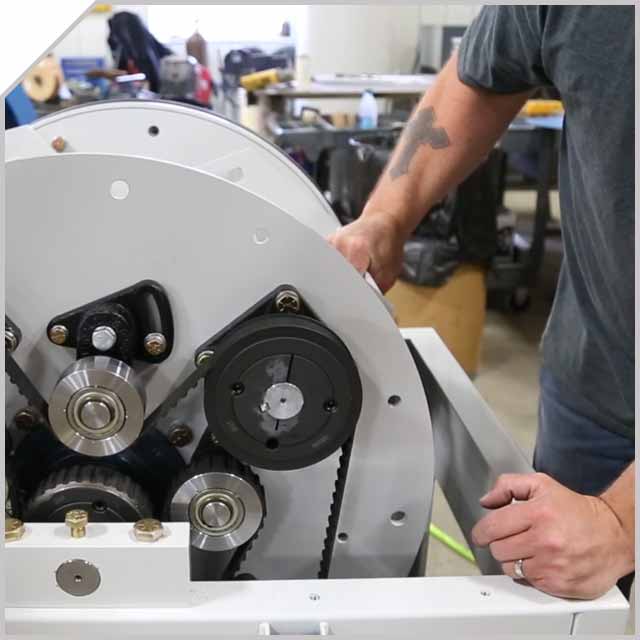 Proper maintenance is crucial to ensure your machines stay in excellent condition for years to come. View maintenance schedules, troubleshooting tips, video demos & more.
Industrial Tumbling Experts
With over 25 years of experience, our team has developed thousands of processes in a variety of industries, including medical, automotive, contract manufacturing, and firearms. From the most intricate additive parts to surgical and medical parts, our high-energy tumbling and vibratory machines can finish and deburr parts in mass quantities in a fraction of the time it would take to finish just one part by hand. Our new customers are often amazed at the finished quality of their parts after just one cycle through one of our mass finishing machines.
When you purchase a machine from MFI, you not only receive exceptional service but also a recipe tailored specifically for your business. What sets MFI apart from our competitors is our proven track record of success, our ability to handle any troublesome job, and our unwavering commitment to customer satisfaction. Choose Mass Finishing equipment for your finishing or polishing project and experience the MFI difference today.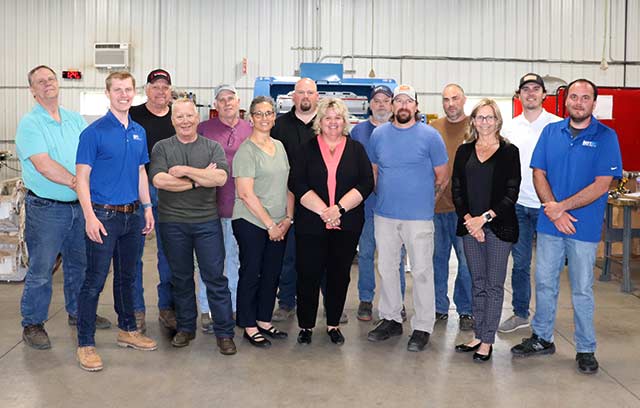 "The (Centrifugal Barrel Finishing) process produces results that can achieve hundreds of thousands of dollars in realized savings each year, and also eliminate the need for buffing and specialty wax bars to buff our products. There is always skepticism when a new process is introduced and claims to obtain results just as good as the "time honored" manual processes, but I'm very impressed with this process and I'd definitely recommend it."
"Our customers immediately noticed a difference when we started using the HZ-CBF. They asked, 'Wow, are these 3D parts? This is incredible, these parts are amazing. What did you do?' Mass Finishing gives us a leg up on the competition and we're happy to partner with them. Anyone seriously looking at barrel finishers should take a close look at Mass Finishing. They'd be in good hands."
"Through our valued partnership with Mass Finishing, Inc. we utilize their HZ-160 Tumbler to deburr and polish parts for motorsports, aerospace, defense, and space. For the Next Gen Uprights, MFI provided the right media and solution to reduce deburring time by 30 minutes per part."
At Mass Finishing Inc., we're committed to delivering high-quality centrifugal and vibratory finishing equipment to a diverse range of industries. Our experienced team of professionals is equipped to handle any project, regardless of size or complexity.
While the below industries are just a sample of those we serve, we look forward to working with you and delivering the perfect finishing solution for your unique needs.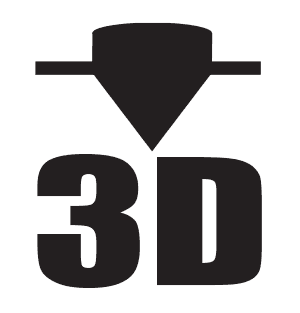 Post-processing solutions for 3D printed parts, efficiently achieving a high surface polish on various materials.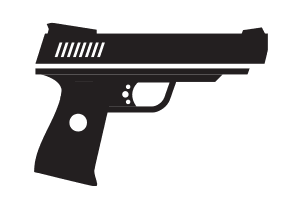 Polishing and deburring solutions for gun parts and ammunition to ensure optimal performance.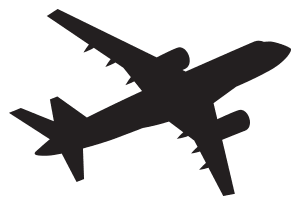 Finishing solutions to debur, stress-relieve, and add a mirror finish to aerospace parts like jet engine blades and wing spars.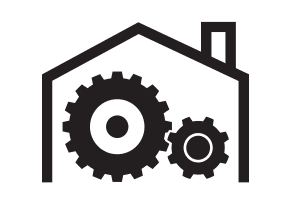 Precise solutions for finishing, deburring, and polishing a wide variety of part sizes and materials.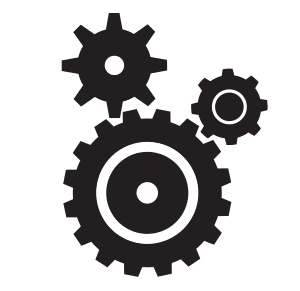 Finishing, polishing, and deburring solutions for manufacturers of both large and small industrial parts.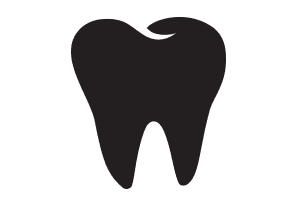 Cost-effective solutions for removing material and rough edges on 3D printed molds. Polish aligners, dental partials, crowns, and more.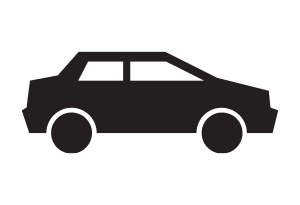 Solutions for finishing small and large parts, including crankshafts, push rods, gears, and springs.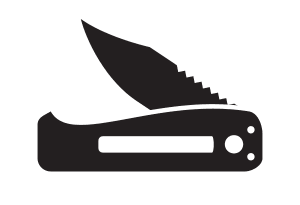 Solutions for creating unique matte and stonewashed finishes along with mirror polishes on blades.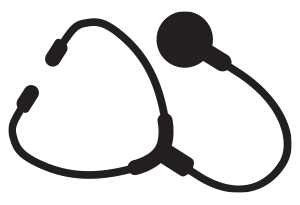 Solutions to create consistent isotropic finishes on medical parts and devices, surgical tools, prosthetics, and other acrylic products.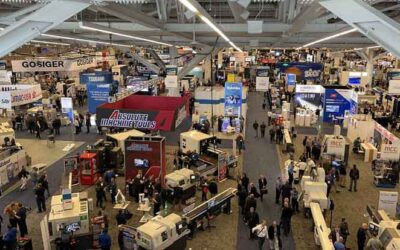 We are excited to share with you the highlights from our recent participation in two major tradeshows this spring: Precision Machining Technology Show (PMTS) and RAPID + TCT. These events provided...
Get in Touch with Mass Finishing Today